Catania
<--- Back to Bonita Isles New Construction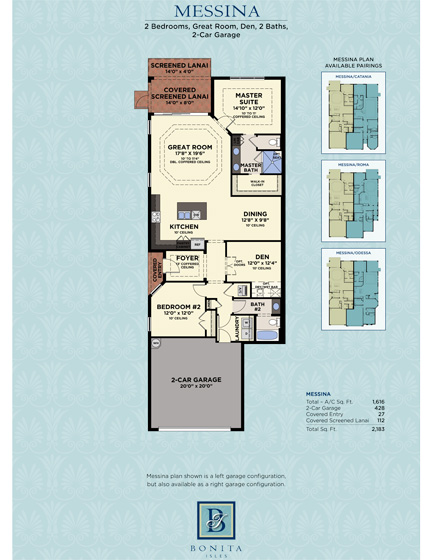 Bonita Isles community in Bonita Springs, Florida is one of the amazing neighborhoods, offering superb residential homes such as Catania. Catania is a 3-bedroom home, features 2 baths, 2-car garage, and comes in a dimension of 1,862 square feet. Set up in a spectacular location, the home is surrounded by green shrubs, making it a real investment for any homeowner.
At the end of the driveway, you will find the garage which has a dimension of 20.x20.0 square feet. Next to the garage wall is a covered entry leading to the foyer. On the left side of the foyer, you will find 2 entrances one leading to the utility room and the other to the den or hobby room. The den/hobby room has a dimension of 10.0x10.0 square feet.
On the right side of the foyer is a door leading to the second bedroom. Immediately you enter through the door, you will find the second bathroom which has a soaking tub and a toilet. The second bedroom has a dimension of 12.0x14.0 square feet. The bathroom is shared between the second and the third bedroom. Opposite the den or hobby room is a door leading to the third bedroom which has a dimension of 12.0x11.2 square feet.
As you crossover from the foyer, you will enter into dining room space which has a dimension of 13.0x10.0 square feet. Opposite the dining room is the kitchen which is beautifully designed with an island and other fittings befitting a modern kitchen. Next to the dining room is a great room which has a dimension of 17.4x10.6 square feet.
Next to the great room, you will see a door leading to a covered screened lanai which has a dimension of 14.0x10.6 square feet. From the lanai, you can enjoy the spectacular skies at night as you relax and enjoy the breeze from the beautiful surrounding.
At the far left corner of the great room is the door leading to the master bedroom whose master suite has a dimension of 14.0x13.6 square feet. The master bedroom has two walk-in closets, one which is bigger than the other. The master bathroom has a soaking tub, a vanity, a shower area and a toilet. Everything about Catania home is perfectly designed to give a touch of class and comfort for you and your family. The surrounding environment is also gorgeously done with the green shrub giving it a sense of life and beauty.
Additionally, the home is located within an easy access of the available amenities and residents can enjoy not only the amazing peace in the neighborhood but also golfing facilities within Naples
For more information, please contact us.
Contact Us