Bougainvillea II
<---Back to Bonita National Golf & Country Club New Construction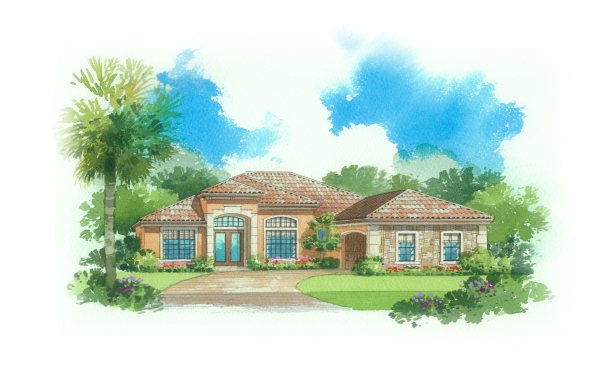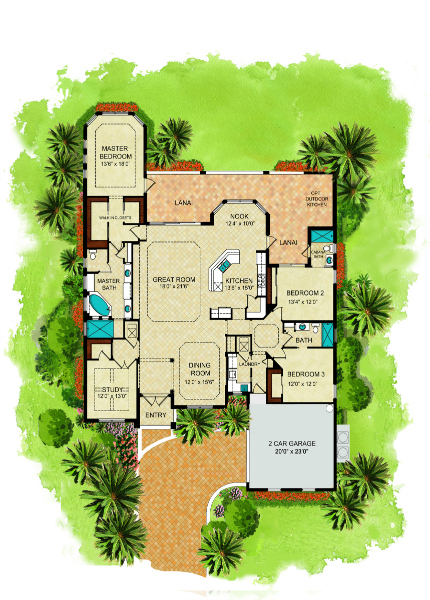 For home buyers, choosing a floor plan can be a daunting task, a lot of factors like space, look and feel have to be considered here. There are a variety of floor plans available but none comes close to the open concept floor plan known as bougainvillea II. This is a unique, beautiful and spacious plan ideal for a single family. The entire area covered by this plan measures a total of 2 799 sq feet housing the living space, dining area, great room, study, kitchen, bedrooms with baths and a car garage.
An exterior view of the house reveals a magnificent looking structure with well-landscaped lanes inclusive of trees lining the length of the area eluding a mix of tropical and modern surrounding. The large windows are a plus as to view the outdoors and also help aerate the house. A walk from the driveway leads straight to the carport (20'0'' by 21'0'') large enough to house 3 cars. The driveway looks elegant paved with bricks and the entry to the house is sandwiched between the dining and study area. The entrance is well designed and looks like an arc with double doors opening to the interior.
As mentioned the dining room sits left after the entrance measuring 12'2'' by 15'6'' enough for a single family to sit comfortable. Opposite the dining room is the study area (12'0'' by 13'0''). Right ahead is the great room at the centre of the living quarters while the right of it reveals the kitchen. The kitchen comes equipped with wall ovens and a cook top and a nook facing north of the kitchen. For such activities such as grilling, there is an outdoor kitchen on the covered screen lanai. On the extreme left to the great room is the master suite. The master suite is large at 13'6'' by 58'0'' and has two entrances, one from the great room and the other from the outdoor lanai.
The master bath is also large with a bathtub, 2 sinks and 2 walk-in closets. Bedroom #2 (13'4'' by 12'0'') is adjacent to the kitchen and also has its bath also accessible from the outdoor lanai. Bedroom #3 is in between the garage and bedroom #2, has a walk-in closet but shares the bath with the rest of the house. The laundry room is between the dining area and bed #3. Some included features in the bougainvillea II floor plan include tile roof, wood cabinetry, granite counterparts, crown molding, brick paver driveway just to name but a few.
For more information, please contact us.
Contact Us