Clubhouse

The Esplanade Golf and Country Club of the Taylor Morrison enclaves in Florida are one of the newest. Designed to meet the most luxurious standards, this community promises to give their residents nothing but the best. With fantastic amenities, this is surely a favorite of many. Situated a few miles east of I-75 off the Immokalee Road in North Naples, it covers almost 1,800 acres. More than 1000 acres are nature reserves and wetlands that cover 170 acres of lakes.
 By the time the Esplanade is complete, it will have more than 1,100 residential homes that encircle a nice 18-hole championship golf course that will swallow up the remaining 800 acres. But the Esplanade is not all about golf alone, there are other amenities. These include an irresistible swimming pool and a lap pool and an open air bar. Others include a pro shop, tennis courts, fitness/wellness center and many others.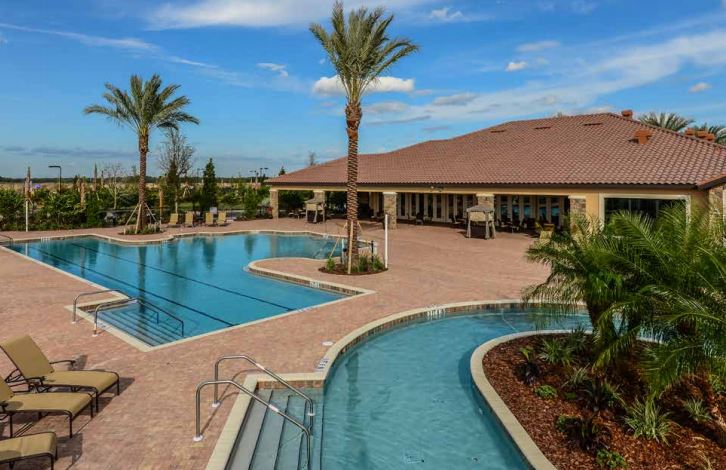 Be it golfers, their impeccably decked up wives or other guests, the luxuries offered by the resort style community of Esplanade Golf and Country Club in Florida succeeds in impressing one and all—and in many more ways than one. The newest of Taylor Morrison communities situated in Florida, this sprawling and lush complex offers residents (as well as their guests) the ultimate in fabulous amenities and luxurious living. Take a look.
Situated barely 3 miles to the East of I-75 and just off the popular Immokalee Rd in North Naples, this 1800 acres plus exciting new community has over 70 percent of wetlands and dedicated nature reserves—with a sparkling 170 acres of lake waters. All this and a lot more, makes Esplanade Country Club a dream come true for those looking for a serene residential space in close proximity to a professionally designed and beautiful golf course. Here, 1100 residential homes overlook 800 acres of a 18-hole championship course…. All located in the sunniest and much loved precincts of Naples
The brainchild of Taylor Morrison, home builder for over a century, Esplanade Country Club is all about superior designs, quality construction and a general air of natural spaciousness –a combination of features that are rarely seen in other communities! The never-ending package for residents as well as their guests at the Esplanade Club includes golf, Pro shop, tennis courts, fitness and wellness center, a totally open air bar, swimming pool as well as a lap pool. The other interesting amenities encompass a clubhouse/ event center that's perfect for summer barbecues, game nights, parties, family reunions and scores of other events.
The highlight of Esplanade Golf and Country Club is obviously its Clubhouse. Call it the water holing hole for weary golfers on a sunny afternoon or a plush hangout for those looking for long hours of fun and entertainment; this beautifully laid out community center is a cynosure for all eyes. From outdoor dining facilities to fun-filled marketing experiences and a lot more, there is something on offer for all guests and golfers alike.
Its business conference center is a much frequented venue for corporate houses and others looking for world class amenities and a classy business ambience. Equally popular is the Grand Ballroom that rubs shoulders with one of the best private fine-dining centers in the region. With an exquisite Bar & Grill and Grand Terrace, the Clubhouse is a complete package in itself.
The toast is obviously raised for (and in) the 19th Hole Lounge that lures one and all to its fascinating setup and well-conceived layout –especially after those nerve racking golf tournaments that boast of participants from all across the globe. The lively and "spirited" environment of this lounge adds precious value to the very exclusive and coveted Esplanade Golf and Country Club.
If you are looking forward to steeping your senses in utter luxury and the finest pleasures that money can buy in these parts of the world, then you are indeed in the right place. A walk through the rooms, terraces, loungers, foyers and ballroom of this Clubhouse, will add to your excitement of having played a round on some of the finest fairways in Naples –just go for it—you will not be disappointed!
For more information, please contact us.
Contact Us