Davanti VIII
Floor Plans: Barelli VIII | Corciano VIII | Davanti VIII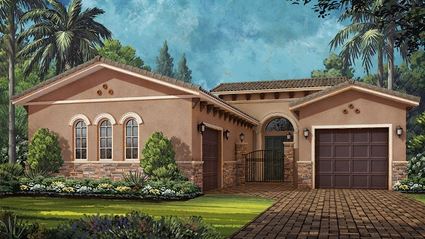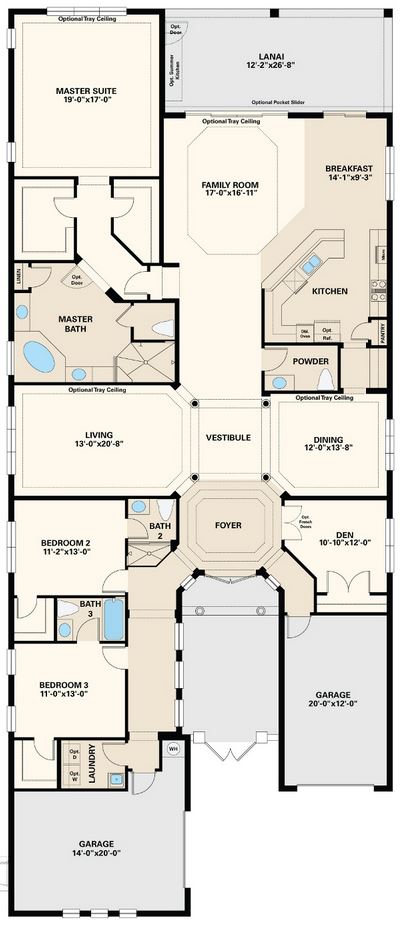 If you are the kind of homeowners who appreciate spacious homes, then Davanti VIII will be a great choice for you. These exclusive 3-bedroom Capella collection homes are situated in the middle of Esplanade Golf and Country Club community in Naples, FL and are priced from $581,900. The 3,226sq ft homes offer residents an easy access to different amenities in this beach neighborhood. They include 3.5 bathrooms and a 2 car garage.
As you approach the home from the driveway, the first thing that you come across is the imposing garage that protrudes to the front from the other part of the home. There is a door inside the garage through which residents can gain access to the house. The garage has a dimension of 14.0x20.0sq ft.
Davanti VIII has a spacious covered entry space which leads direct to a foyer. To the right of the foyer is a den with a dimension of 10.1-x12.0sq ft and an optional French door. On the left side is a corridor leading to the laundry, second and third bedrooms and through which the garage door can be accessed. The third bedroom which stands next to the laundry has a dimension of 11.0x13.0sq ft and features a bathroom that has a soaking tub and a walk-in closet. The second bedroom which is right next to the foyer has a dimension of 11.2x13.0sq ft and features a bathroom and a walk-in closet.
As you get past the foyer, you will enter into a vestibule. To the right of vestibule is a dining space with a dimension of 12.0x13.8sq ft. To the left is the living room which has a dimension of 13.0x12.8sq ft. Next to the vestibule on the right is a powder room. As you walk past the powder room door, on the left side you find the door leading to the master bedroom. This generous room has a dimension of 19.0x17.0sq ft and the master suite is tacked privately in the far left hand side. You will walk through a "corridor" between two walk-in closets to access the suite. The master bath is on the other end of the room and includes a soaking tub, a vanity and a toilet.
The family room is located beyond the master bedroom's door and generous space with a dimension of 17.0x16.11sq ft. On the right is the breakfast space with a dimension of 14.1x9.3sq ft and a spacious kitchen tacked between the breakfast space and the powder room walls. The lanai is situated in the far end of the house and has a dimension of 12.2x26.8sq ft.
Davanti VIII is a superb home and is surrounded by green trees and lovely shrubs.