Francesco VIII
Floor Plans: Carrara VII | Pallazio VII | Bella Casa VII | Luca VIII | Francesco VIII | Bella VIII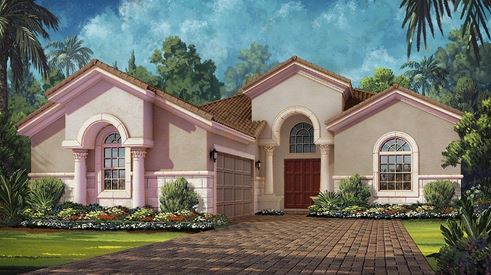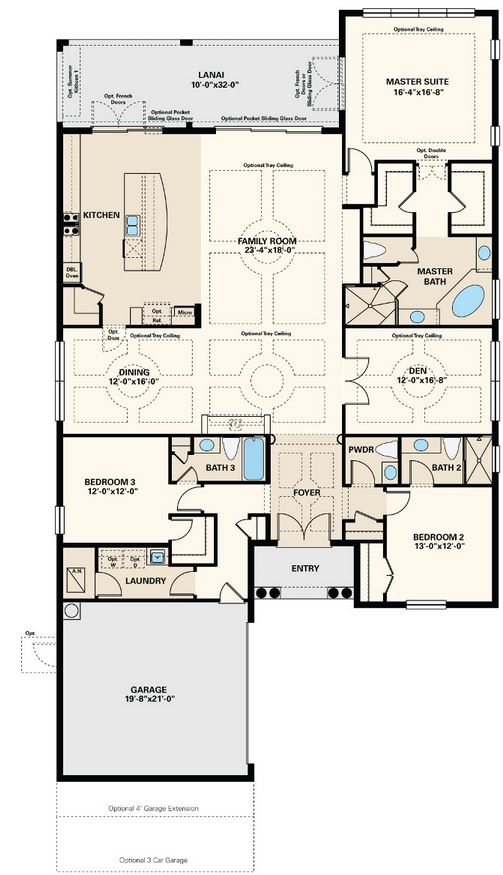 Located in the luxurious Esplanade Golf and Country Club community in Naples, FL, is Francesco VIII home which has a dimension of 2,862 sq ft. Francesco VII include 3 bedrooms, 3.5 bathrooms and a garage for 2 cars with an option for extension to house 4 cars. The garage has a dimension of 19.8x21.0sq ft.
The home has a covered entry and once you enter inside into the foyer, you will find the second bedroom on the right side with a dimension of 13.0x12.0sq ft. It includes a bathroom and a walk-in closet. The powder room is also located on the right side of the foyer with its door standing next to the one leading to the bedroom.
On the left, there is an open leading to the laundry room and the third bedroom which has a dimension of 12.0x12.0sq ft. this bedroom also has a walk-in closet and a bathroom which has a soaking bathtub. As you walk to the end of the foyer, you will come to a huge space and on the left, there is a dining space with a dimension of 16.0x12.0sq ft. To the right stands the den which has a dimension of 12.0x16.8sq ft. The two spaces offer an optional tray ceiling.
As you get past the space between the dining and the den, you will enter into the family room which has a dimension of 23.4x18.0sq ft. The architectural plan of this house is put together to give an impression of luxury and organizational skills. On the left side of the family room stands the door to the magnanimous master bedroom whose master suite has a dimension of 16.4 by 16.8 square feet. Everything about this bedroom is classing with all fixture having been selected keenly to give the resident nothing but the best experience. As you leave the master suite for the master bathroom, you are confronted by an optional double door that leads to two walk-in closets standing opposite to each other. The space between the two closets leads to the master bath which has toilet, vanity and a soaking bathtub.
On the left side to the family room is the spacious kitchen which has a double oven and a micro. The lanai is located at the end of the house and can be accessed through optional French doors or optional sliding glass doors next to the kitchen. You can also access the 10.0x32.0 lanai through optional pocket glass doors next to the family room or yet still use sliding glass doors (there is an option for French doors) leading to the master bedroom.
Francesco VIII pricing starts from $527,400.
For more information, please contact us.
Contact Us