Isabella VIII
Floor Plans: Isabella VIII | Mercede VIII | Vinci VIII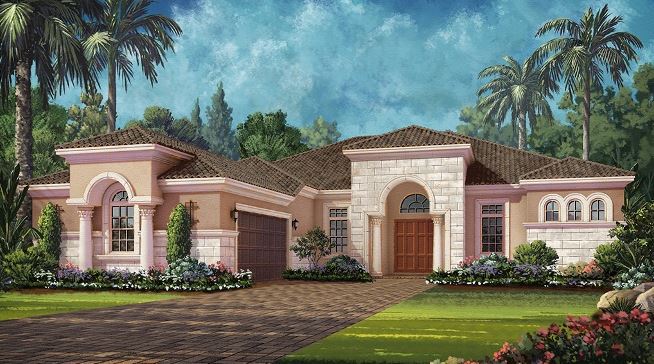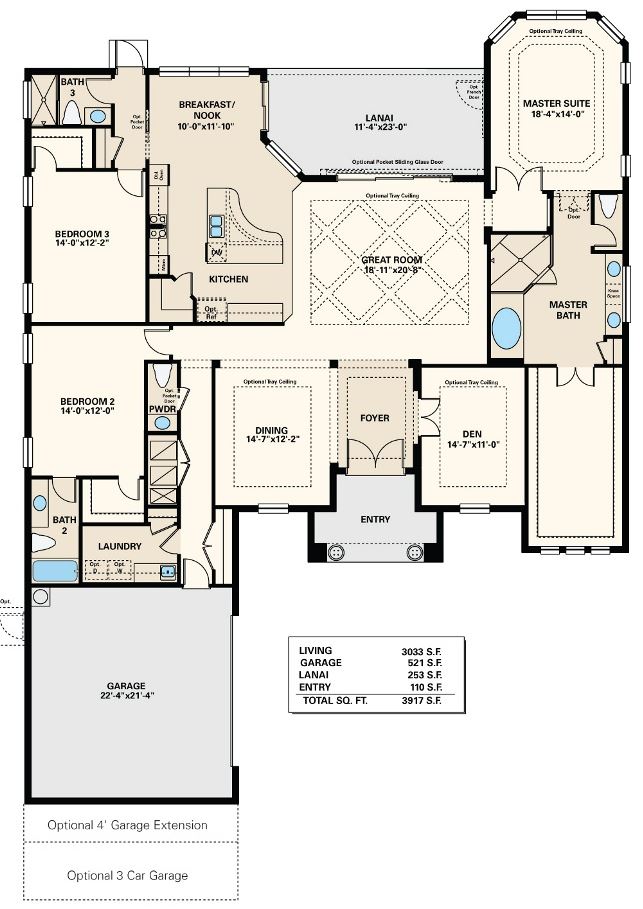 At 3,033 square feet, the Isabella VIII is a perfect fit for the distinctive resort lifestyle offered at the Esplanade Golf and Country Club of Naples. This single story design is a true testament to comfortable living, and with 3 bedrooms and 3.5 baths, there is plenty of space to call home.
Isabella's 2 car garage also offers the option of an extension that will easily accommodate 3 vehicles with ample room for traditional garage storage. And with convenient access to the main house, there is never a need to use an umbrella, in the off chance of rain.
At 110 square feet, the front entry and foyer deliver a small taste of just how inviting the interior space was designed to be. Located on either side of the foyer, the den provides suitable privacy from the rest of the floor-plan, while the dinning room uses an open concept to provide an added sense of space for diner guests.
The Isabella VIII boasts a great room that truly captures the expansiveness of this design. With a footprint measuring nearly 19' x 21', the great room provides easy access to the Isabella's kitchen, lanai, master suite, and adjacent hallway that leads to the remaining two bedrooms, as well as easy access to the garage and laundry room.
When it comes time for cooking and entertainment, the kitchen space has form and function well taken care of. With plenty of work surface for preparing meals, the chef is offered peace of mind knowing that guests can gather around the large island, or easily mingle in the attached breakfast nook.
Easily accessible from the great room, the master suite is a virtual showpiece. With a master bath and adjoining space, the suite itself is its own living area. On the other side of the Isabella VIII, the remaining two bedrooms, each with their own bath, offer plenty of room for family and guests alike, while still allowing for a respectable buffer from the home's main bedroom.
What would resort living be without a spacious lanai? At 253 square feet, this space offers the perfect spot to relax and enjoy the view. After an enjoyable day of golf on a championship course, enjoying time with family and friends will always make for the perfect day.
With an additional half-bath, ample closet space throughout, and a laundry room with a large footprint, the floor-plan of the Isabella VIII leaves absolutely nothing to chance. Coupled with the amazing amenities offered within the community, the Isabella is really the true definition of a luxury home.
For more information, please contact us.
Contact Us