Mercede VIII
Floor Plans: Isabella VIII | Mercede VIII | Vinci VIII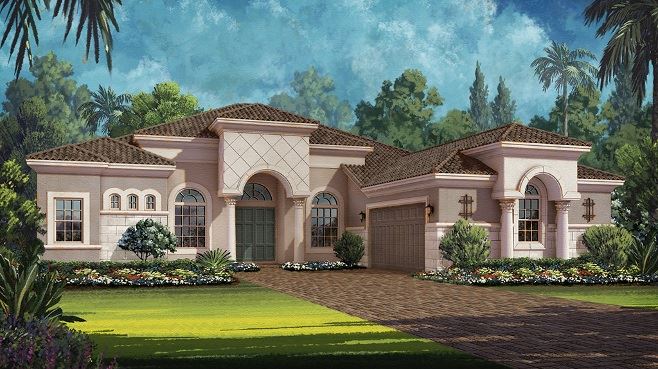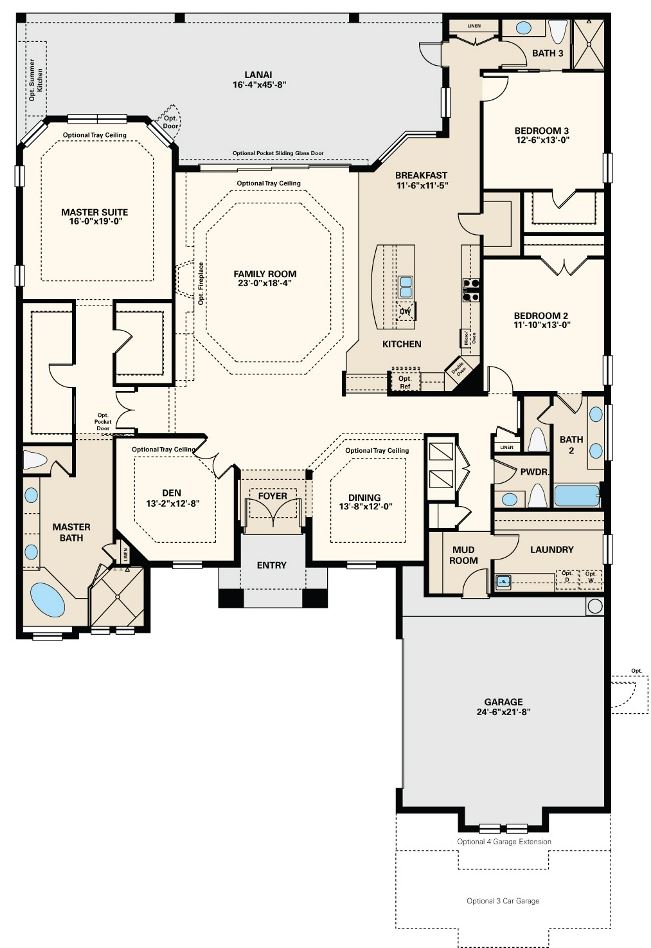 As you approach the stylish Mercede VIII Torrino collection homes, strikes you first is the well manicured compound and a neatly laid driveway that just tempts you to drive on. The palatial home has all the features of a pleasantly planned architectural work that will entice you from outside. However, what you find as you take a tour of the interior is what will leave you fully amazed.
The garage is located on the right hand side of the home extending a little bit to the front of the house. This 2 car garage has a dimension of 24.6x21.8sq ft and offers an optional extension space for a third car. As you enter through the covered entry, you come to the hallway that opens up the other luxurious parts of the house. On the right side of the foyer is the dining space with the den laying on the left hand side. The two have a dimension of 13.8x12.0sq ft and 13.2x12.8sq ft respectively.
The foyer leads to the exceptionally spacious family room that has a dimension of 23.0x18.4sq ft. On the right side of the family room, you will find both the kitchen and the breakfast area measuring 11.5x11.6sq ft. The kitchen is fully equipped and has the modern cabinetry which gives it a taste of elegance and style. Between the dining room and the kitchen, you will see a passageway leading to the powder, laundry and mud room. The passageway also leads to the second bedroom that has a dimension of 11.10x13.0sq ft. It has a walk-in closet and bath that includes a soaking tub and other facilities.
As you go back to the breakfast space, you will find a corridor at the far end leading to the third bedroom which has a dimension of 12.6x13.0sq ft. This bedroom has a walk-in closet. It is next to a common bath and toilet which are tacked at the end of the home.
The master bedroom is located on the left side of the family room and has a dimension of 16.0x19.0sq ft. The master suite and the bathroom are located opposite from each other and are divided by the 2 walk-in closets. The bath is rich in facilities including the soaking tub, toilet and a vanity. The covered lanai is located at the far end of the home beyond the family room and has a dimension of 16.4x45.8sq ft.
Mercede VIII pricing starts from $602,400 and is situated at the center of a beautiful and tranquil neighborhood.
For more information, please contact us.
Contact Us