Floor Plans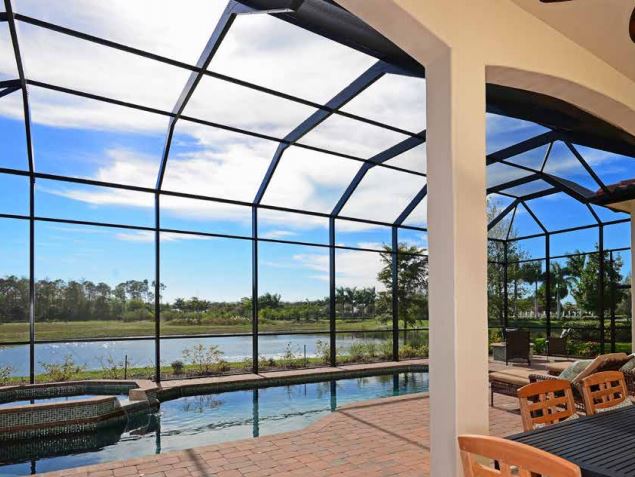 Esplanade Homes
Homes in Esplanade are some of the most impressive that you will find anywhere in all of Florida, the Sunshine State. What make these homes really delightful are the various facilities and amenities that are fixed in each of the residences. Lifestyle VII Series boasts of great interior, facades, amenities, and other conveniences. Let us a have a look.
Gourmet Kitchens
Get a chance to own a gourmet kitchen that you can be proud of. Residences come complete with designer Timberlake 42'' maple cabinets with hidden hinges. But that is not all as there are granite level I countertops with backlash. The kitchens also come with sparkling Sterling stainless steel under mount kitchen sink, durable GE electric refrigerator, gas range, microwave ovens and stainless steel dishwasher. Other amenities present in the gourmet kitchens are Moen Integra stainless steel faucet with an integral sprayer, recessed lighting in kitchen (comes on a per-plan basis) and a GE/HP food disposal.
Brilliant Exteriors
Homes are a delight to look. The Lifestyle VII Series comes with ThermaTru fiberglass 8'' front entry door and Kwikset satin nickel entry door hardware with deadbolt lock. As for the exterior paints and coatings, they are of the Sherwin Williams/Loxon brand and are low VOC. The exterior walls are also finished with accent banding and textured cement layer. There is an irrigation system fitted with control timer and a landscaping that has been outlined and designed by the most experienced professionals.
As for the roof tiles, they have the barrel profile with the garage door is paneled and lined with steel. These doors also come with an automatic opener and two remote controls. Coach lights also accompany the exterior garage while the covered lanai has an acrylic finish. There are a couple of hose bibs while the exterior is fitted with waterproof outlets (also on a per-plan basis). A 200 amp electrical service supplies the entire outfit. 
As for the driveway, walkway, and entry, they are all paved. There is the impact-rated entry door and windows (front elevation only) and 24 gauge galvanized storm panels (sides and rear).
It is however important to note that Taylor Morrison reserves the right to modify or change the plans of the floor or even the materials and features that has been used. That they can do without the need for any prior notice or obligation.
Owner's Luxury Corner
Also of the Lifestyle VII Series, they come with Timberlake comfort height cabinets (plus hidden hinges) and a Master Suite that has a massive shower in a glass chrome enclosure. The Master Suite and secondary baths are covered in Ceramic Level I 6'' * 6'' wall tiles. Other facilities and amenities for your enjoyment include Sterling Wescott undermount sink in the Master Suite and the secondary baths.
Quality Interiors
The homes in Esplanade have some of the most glorious interiors found anywhere. The interiors are of the Lifestyle VII Series feature fluorescent lighting in walk-in closets, garage, and pantry and laundry room (on a per-plan basis). Other features include 5'' colonial baseboards, windowsills that appear on all operative windows. There are also base cabinets in the laundry room with Level I granite, in addition to the laundry tub, dryer, and washer.
Safety, Energy & Economy
Lifestyle VII Series homes also have bronze-framed low E double pane windows and sliding glass doors. In the ceilings, there is durable R-30 insulation over the living space fitted with air conditioners. The air-conditioning system that is very efficient (minimum 14 SEER) that also has a programmable thermostat ensures the home is properly aerated. An energy-efficient gas water heater that comes with a 50 gallon capacity and a security system (pre-wired) among other facilities ensure that you are not only protected, but that you are also getting the best of energy at the most economical and pocket-friendly rates.
Own one of these luxurious homes in Esplanade. Living in this elegant setting provided by the Esplanade community can make life even more convenient and fun. 
For more information, please contact us.
Contact Us