Grey Oaks Real Estate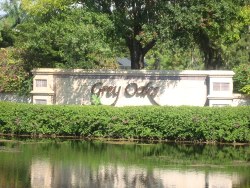 Pristine lakes, immaculate championship golf courses, and breathtaking homes with views of the landscaping to match – ask anyone in Naples what community that could be, and they'll tell you Grey Oaks.
Tucked right in the heart of Naples, Grey Oaks lies just minutes from all of the city's most desirable beaches and hot spots. The beautiful vista of Olde Naples is just down the road and will provide you with all the charm and antiquity of times passed. Plus, when you want to stay closer to home, you can always spend the day on one of Grey Oaks' three magnificent golf courses, relax at the lagoon-style swimming pool, or enjoy a sumptuous meal at the clubhouse. Grey Oaks is designed to give you the ultimate in comfort, class, and luxury golf, and its reputation as one of the city's premier communities only proves that.
Listings Grey Oaks
September 28, 2023
$1,187.82
Avg. $ / Sq.Ft.
$3,995,000
Med. List Price
Homes
You'll have a wide variety of homes to choose from in Grey Oaks, ensuring that your dream house is somewhere within the gates. The homes are divided up into 13 unique subdivisions, each with its own atmosphere, style, and aesthetics.
In Avila, you'll find one of the largest collections of homes in Grey Oaks, with 54 home sites. Built between 1997 and 2001, the homes at Avila are mostly two stories and ranging in size between 2,300 and 4,000 square feet.
Or, tour the beautiful Isle Toscana, a stunning neighborhood with Mediterranean style and charm. This exclusive subdivision is made up of some of the most desirable homes in all of Grey Oaks – the fabulous homes start at nearly 5,000 square feet at the smallest and expand all the way to 12,000 square feet under air. The incredible floor plans were designed for your comfort, and boast intricate features that add even more beauty to the surroundings.
No matter where you ultimately choose your home, living in Grey Oaks will give you a lifestyle that simply can't be matched.
Condominiums
But, it isn't all about the homes in Grey Oaks. This gorgeous Naples community is also home to numerous condominiums, divided up into three unique subdivisions.
In L'ermitage at Grey Oaks, detached villas and high-rise condos sprout up from the surrounding landscape and complement the many palms, oaks, and other native plant life that is so famously abundant throughout the community. The majority of the units here offer three bedrooms and a spacious den and ranging in size from 3,300 to an astounding 7,000 square feet. Plus, you'll enjoy incredible views of the sparkling lakes as well as the Pine golf course.
Terra Verde is a masterful community that features low-rise condos of units that offer three bedrooms, three baths, and spacious living areas ranging in size from 2,400 to 3,175 square feet. Residents also have access to an exclusive pool and clubhouse with private cabanas for relaxing during the warm Florida summers.
Finally, the neighborhood of Traditions is the newest in the community, consisting of elegant detached villas with waterfront views. Ranging in size from 2,500 to 4,000 square feet, each one of these luxurious units also boasts a private, two-car garage and the peace of mind that comes with a 24-hour gated entrance.
Amenities
All around Grey Oaks, you'll see food, fun, shopping, relaxation, and much more.
The beaches near your new home are widely considered to be some of the best, and you'll agree once you see the cool, white sand accented by calm waters and a vast horizon. Plus, countless waterfront establishments are always there to provide you with food and drink in order to make your stay even more enjoyable. Then, at the end of the day, relax on the edge of the Gulf and watch one of Florida's breathtaking sunsets. It's an experience that can't be matched anywhere else.
Closer to home, you'll love the three fabulous golf courses at the Grey Oaks Country Club. Designed by Clifton, Eizell, and Clifton, the trio of courses are excellent examples of how the natural surroundings can be integrated into the layout to create an experience that is as unique as it is varied – you'll certainly never play the same course twice, no matter how many times you play. Plus, all the courses were built to be playable and enjoyable by golfers of every skill and age, so you can rest assured that you'll have the time of your life.
And if golf isn't your style, the tennis facilities at Grey Oaks will blow you away. Eight lighted, Hat-Tru courts are featured here, and are all constantly maintained to remain in tournament condition year round. Plus, being one of the community's favorite social spots, you'll have a blast in the neighborly atmosphere, learning, improving, and all-around having a good time.
In the clubhouse, the social calendar is always packed full with events for everyone – from the weekly cookouts and buffets hosted by the phenomenal dining team to drive-in movies, carnivals, wine socials, black tie socials, and more, you'll never have a dull moment among your new friends at Grey Oaks. You can have all that right outside your front door, and it all starts with your incredible new home or condo.