Imperial Golf Estates Real Estate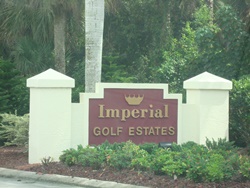 In the heart of Naples, and among some of the most beautiful scenery in all of Florida, is a picturesque golf community that combines all the fabulous amenities of the city with everything that you'll love about the surrounding community – Imperial Golf Estates.
Opened in 1972, this collection of golf courses and elegant homes has earned a reputation for being one of the premier member-owned private golf clubs in the entire city, and boasts a flawless financial footing. The two golf tracks are immaculately maintained to ensure your experience rivals that of a world class resort or better, and the designs by famed architects Chip Powell and Arthur Hills create the perfect setting for a tournament, a casual game with friends, or anything in between.
And the clubhouse is truly a thing of beauty. Standing at a sprawling 32,000 square feet, this majestic building features banquet seating, casual and fine dining, and relaxed, lounge-style accommodations for anyone looking to unwind after a long day. The personalization provided by the Club's professional golf club staff is unmatched, as you'll be recognized and cheerily greeted by name, all the while being pampered by the flawless service.
As any resident will tell you, the community atmosphere at Imperial Golf Estates is simply the best. And experiencing it all starts with your new home.
Listings Imperial Golf Estates
October 1, 2023
Homes
The residences at Imperial Golf Estates are divided into 12 unique neighborhoods for your convenience: Abbey on the Lake, Bermuda Greens, Castlewood, Charleston Square, Imperial Gardens, Imperial Park Place Villas, Island, Manors of Regal Lake, Park Place West, Wedgefield Villas, Westgate, and Weybridge.
Comprised of both luxurious single-family homes and gorgeous villas, Imperial Golf Estates boasts stunning home designs, spacious floor plans, and incredible views of both the surrounding landscape and the golf courses. The homes are built in a wide array of styles as well, so you can be sure that there is a perfect fit somewhere for you – no matter your preferences or desires.
The exteriors are all beautifully maintained, with a natural integration of the architecture and the surrounding landscaping, and the interiors are just as intricate. State-of-the-art designs, spacious floor plans, unmatched quality, and more are just some of what you'll get in a new home or villa at Imperial Golf Estates.
Amenities
The community is famous for its golf, and it's for good reason – the two championship courses are pictures of perfection, and have hosted numerous PGA, LPGA, and USGA events because of this. When you step out onto the crisp, lush grass for the first time, you'll understand why this is such a prestigious setting. It caters to everyone in its design, which offers multiple different lengths that vary widely, so you'll have a blast every time you play no matter your age or skill level. Plus, with strategic bunkers, shrubbery, water features, and rough situated all around, the course is built in a way that ensures you will never be playing the same game twice.
As an exclusive member to the golf club, you'll be able to ride the course with top-line golf carts that feature the Visage GPS system, or you can slow things down and walk, taking in everything the beautiful scenery and natural setting has to offer. The club even focuses on a pace of place that is under four hours, so you can be sure you won't be waiting on every tee box.
Outside of Imperial Golf Estates, you'll find all the amenities that make Naples famous. Just minutes away from your new home is the elegant Mercato shopping center, a haven for fine dining options, casual eateries, clothing stores, an exclusive Whole Foods location, and much more. Plus, another quick trip down U.S. 41 is the Waterside Shoppes, a luxurious shopping location less than a mile from the fabulous Gulf coast beaches. When you live in Imperial Golf Estates, you'll be getting much more than a pristine home and unbeatable golf experience – you'll be getting a lifestyle that mirrors that of a tropical vacation.