Island Walk Real Estate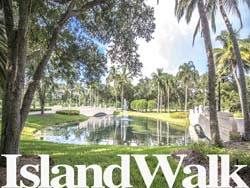 One of the newer communities in Southwest Florida, Island Walk is nestled quietly in a private section of North Naples, just minutes from the breathtaking Gulf coast beaches. It boasts exceptional amenities, beautifully designed homes, and unmatched waterfront properties – true to the name, you will certainly walk among the islands in this flawless community.
Built in 1998, Island Walk is a collection of homes, townhomes, and attached villas that rest along the quiet shores of finger lakes stretching throughout the property. As a resident, you'll be free to enjoy yourself with kayaking, canoeing, and even fishing at your leisure, giving the community the quiet atmosphere of a tropical haven.
Island Walk also features an exclusive "Town Center," complete with bank, car wash, post office, café, and gas station. It features all the beauty and scenery of the South Florida landscape with the convenience of living in a tight-knit community. A sprawling, resort-style clubhouse is also available, featuring a recreational pool, state-of-the-art fitness center, tennis courts, and even a putting green. A year-round Activity Director works to assist all the residents in planning activities and events, and a guard stands at the front gate of Island Walk 24 hours per day, to ensure the safety of the residents as well as the exclusivity of the community. Living in Island Walk is like living in a vacation – and it's one that never has to end.
Listings Island Walk
September 28, 2023
Homes
Island Walk boasts multiple styles and designs of homes to ensure that you find your perfect match. Wide arrays of floor plans are also available for you to choose from, each with their own charms and features.
Capri Duplex
This quiet 2-bedroom duplex is a comfortable and affordable design that also features 2 baths and a two-car garage, a spacious lanai, a den, and even a pool option. It totals approximately 1,513 square feet.
Aruba Townhomes
At 1,771 square feet, the two-story Aruba floor plan is gorgeous and roomy design that allows for three bedrooms, two baths, a two car garage, and a large patio with a pool option.
Oakmont Single-Family
These single-family homes are spacious, affordable, and beautifully designed. They feature three bedrooms, two baths, a den, and a two-car garage. Out the back door is a screened lanai facing a large patio with a pool option. The Oakmont plan totals 1,997 square feet.
Carlyle Single-Family
The largest of the two single-family floor plans, the Carlyle features four bedrooms, three baths, a two-car garage, a beautiful morning room, and an optional fireplace. With a screened lanai and large patio with a pool option, this floor plan is a stunning design combined with relaxing ease of living.
Amenities
The amenities of Naples are right around the corner here in Island Walk, from the fabulous shopping and dining at the Mercato to the entertainment at The Naples Philharmonic Center for the Arts. But you'll also find everything you need within the walls of this all-encompassing neighborhood.
Island Walk proves to be the utmost provider of food, fun, and everything in between to its residents. The unique Town Center features food for all, from fast food such as Subway and Panda Express, to the family-friendly Island Walk Café and Restaurant. Laughs and cheers are sure to be had at the Blue Monkey Bar and Grill, which features a nightly live band, and the highly-rated Nacho Baja Grill.
And that isn't all – the clubhouse and community center at Island Walk offer numerous events, clubs, and activities to keep your social calendar full. The state-of-the-art fitness center is open for you to enjoy and use to stay healthy, a large, resort-style pool is available to residents for those warm summer days, the lush putting green is the perfect place to hone your short game, and much more is here for you to take advantage of.
When you live in Island Walk, you'll be living in the heart of a community that offers more fun, recreation, and natural beauty than anywhere else. From the unending water features that snake throughout the homes to the expansive Town Center that offers residents all the amenities of a small town, Island Walk is in a league of its own in Southwest Florida.