Longshore Lake Real Estate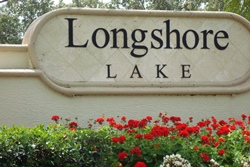 Bordered by the breathtaking lake that gives the community its name, Longshore Lake is a secluded and serene community located in North Naples that is a nature lover's dream. With its unique location, quiet, humble surroundings, and stunning views, this community reflects a classic South Florida lifestyle unlike any other.
Dotted with live oak, native tropical flora, and mature palms, Longshore Lake is a natural wonder all on its own. But its appeal lies not only in its desirable location; The Club at Longshore Lake is the social hub of the entire community, providing residents with access to all of the finest amenities. Both formal and casual dining options are available at the bar and grille for lunch, dinner, and dessert, all prepared by the head chef Robert Sanacora Jr., a graduate of the prestigious Culinary Institute of America and a member of the American Culinary Federation. A full-time manager is on staff at the Club to assist the residents and to put together community events such as weddings and banquets. Also available at the Club is a popular heated pool and fitness center, along with Har-Tru tennis courts that are lighted at night, tennis pro shop, and a full-time tennis professional. Additionally, every summer Longshore Lake enjoys reciprocal dining, golf, and more with many other Naples communities.
But the staple of the community has to be the 88-acre lake that stretches throughout the entire property, creating seven miles of shoreline and ensuring that nearly every home is given a waterfront view, and residents are even permitted to have their own dock. The lake attracts natural plants and wildlife, creating beautifully quiet scenery that is juxtaposed with the community's proximity to bustling Naples. The lake is carefully managed for irrigation use as well as recreation, and the community dock is the perfect spot to hang out, go kayaking or canoeing, or maybe just watch the sunset.
Listings Longshore Lake
May 29, 2023
Homes
Longshore Lake has a total of 568 single-family homes on its pristine 310-acre gated property, all built by Longo Construction Development Company, Inc. A wide variety of homes are offered, with different floor plans to fit your lifestyle, and the sized range from around 1,500 square feet to 4,500.
• Antigua: 3 bedrooms, 3 baths. 4,164 square feet
• Barbados: 2 bedrooms, 2 baths. 2,574 square feet
• Dominica: 3 bedrooms, 3 baths. 2,757 square feet
• Martinique: 2 bedrooms, 2 baths. 2,650 square feet
• St. Maaten: 3 bedrooms, 2 baths. 3,896 square feet
• St. Thomas: 3 bedrooms, 2 baths. 4,009 square feet
• Stratford: 4 bedrooms, 3 baths. 4,327 square feet
• Catalina: 3 bedrooms, 2 baths. 2,804 square feet
• Montserrat: 4 bedrooms, 2 baths. 2,995 square feet
• St. Kitts: 3 bedrooms, 3 baths. 2,738 square feet
• St. Thomas IV: 4 bedrooms, 3 baths. 3,301 square feet
• Trinidad: 3 bedrooms, 2 baths. 2,165 square feet
• Hamilton: 3 bedrooms, 3 baths. 4,086 square feet
The luxury Ft. Myers gated community Miromar Lakes has just released the final phase of the Porto Romero neighborhood, and Miromar Lakes Vice President of Sales Al DiNicola expects residents to be able to move in by next season.
The homes will be preconstructed and will start around the low $500s. There will be 22 detached villas with water and golf course views and multiple 3-bedroom, 3-bath floor plans to choose from. The homes will range in size from about 2,200 to 2,700 square feet of air-conditioned living space or more.
"With the benefit of all of the amenities that Miromar Lakes has to offer to its residents, there is a strong demand for this size home, in this price range," DiNicola said.
The amenities in question happen to be some of the most prestigious in the state. Besides its award-winning golf course, Miromar, the No. 1 Residential Community in the United State, boasts a 700-acre freshwater lake that offers boating, fishing, canoeing, kayaking, sailing, water-skiing, and gives the community three miles of private freshwater beaches. Miromar's clubhouse is home to a full service European spa, a state-of-the-art fitness center, three separate restaurants, and seven Har-Tru tennis courts.