Mediterra Real Estate
#star-ratings-small-mediterra#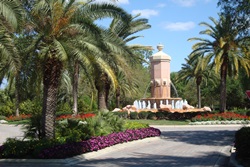 If there is a single, defining community of Naples, it's Mediterra.
Tucked amongst the lush greenery and towering pines of Southwest Florida, the luxury development of Mediterra is a perfect example of when comfort and luxury golf come together in perfect unity. Living here is akin to living in a year-round vacation – and it never has to end.
With neighborhoods of sprawling estate homes lining the shaded streets, Mediterra brings together all of North Naples' most attractive amenities with homes that have been designed with the owner in mind. Simplicity, ease, and aesthetics are emphasized here, and the Mediterranean influence is evident throughout. Tall, romantic arches, cobble driveway, slated roofs, vaulted ceilings, and much more are what you'll find in nearly all the homes of Mediterra, creating an environment that appears to come from the shores of Naples, Italy, rather than Naples, Florida.
You'll be just minutes from all of the most incredible beaches the city has to offer, including Vanderbilt Beach, Delnor-Wiggins State Park and Beach, and more. Plus, the city's desirable shopping and dining district is a quick trip down the road from your Mediterra estate, where you'll find and exclusive Whole Foods, casual eating at the Chipotle Mexican Grille, and fine dining at Season's 52. And that's just a taste of what Naples has to offer – live in Meditarra, and you'll be able to experience it all firsthand. 
Listings Mediterra
December 8, 2023
$2,949,000
Med. List Price
Homes
Multiple different neighborhoods, each with a unique set of homes, are available at Mediterra, giving you an unprecedented series of options within the community to find the perfect home for you.
Cortile: The estate homes of this lovely neighborhood are both spacious and intimate. Built by famed architecture company London Bay Homes, Cortile features 8 unique designs that range in size from 4,300 to over 6,000 square feet, and come with fabulous amenities and options. Plus, with just 18 homes, this serene neighborhood is perfect for anyone who wishes to live with both luxury and quiet comfort.
Buonasera: Breathtaking lakeside views and exquisite home designs are features of this charming, cul-de-sac community within Mediterra. The 15 Stock Construction homes in Buonasera all reflect the European style and architecture that is featured throughout Mediterra, and come in sizes from 3,200 to more thatn 4,000 square feet.
Serata: If you long for personalization and customization for your home, look no further than the beautiful neighborhood of Serata. Also built by London Bay Homes, this secluded haven is home to 36 home sites that allow you to create a home that is both personal and luxurious. Each site is located along the shores of a large, crystal-clear lake, and come in sizes between 3,000 and 4,600 square feet.
Condos
Comprised of 4 distinct neighborhoods, the condominiums of Mediterra are beautiful condos that boast spacious floor plans and beautiful exterior designs. The exclusive Brendisi is home to just 36 coach homes that were built between 2004 and 2006, and boasts a private pool for residents. Calabria offers 54 coach homes, and comes with breathtaking lake and preserve views, and the homes range in size from 2,600 to nearly 3,000 square feet of living space. In Monterosso, 100 beautiful coach homes are available, surrounded by views of the sparkling lake and lush golf course, and come in three separate floor plans that average 2,600 square feet under air. Finally, the gorgeous Porta Vecchio is made up of 56 coach homes all built between 2003 and 2006. They all offer the convenience of an attached 2-car garage, and are located right off the 12th fairway of the North Course.
    
Amenities
In 2011, Meditarra received a perfect score for luxury golf communities by the judges of the Sand Dollar awards for the seventh time, locking down yet another "Community of the Year" award. And you won't have to spend more than 5 minutes in this one-of-a-kind development to understand just why that is.
Mediterra itself is 1,700 acres of astonishing scenery, yet there are never any more than 950 on the entire property. Plus, of the total area, more than 1,000 acres are dedicated preserves, lakes, parks, and beautiful open spaces. If golf is your passion, you'll love the two Tom Fazio-designed courses – lush, rolling fairways lead to pristine and intricately manicured greens that roll smoother than any others, and the state-of-the-art Golf Learning Center is the perfect place for you to take your game to the next level.
The 25,000 square foot clubhouse is the social and recreational hub of Mediterra, where you'll find both casual and fine dining for every occasion. And that isn't all – a huge sports club with a resort-style pool, tennis and fitness center, and luxurious spa are located right by the clubhouse for your ease and convenience. So whether you want to make a visit to the gym, play a game of tennis with some friends, swim some laps in the pool, or just relax to a delicious meal after a long day, Mediterra has something for you.
But the beaches are what draw most people to Southwest Florida, and Mediterra has an unbeatable deal for those people. The Beach Club at Mediterra is an incredible opportunity that the community has made available exclusively for residents: You'll be granted beach-side parking just steps from the sand, beach chairs, umbrellas, and tasty refreshments waiting for you when you arrive. Plus, 10,000 square feet of indoor and outdoor dining, a massive, elevated swimming pool, and personalized beach service are offered to members of the Beach Club, making this one of the most comprehensive, relaxing, and luxurious opportunities in all of Naples. And when you live in Mediterra, that all comes by a different name – home.