Ballard Floor Plan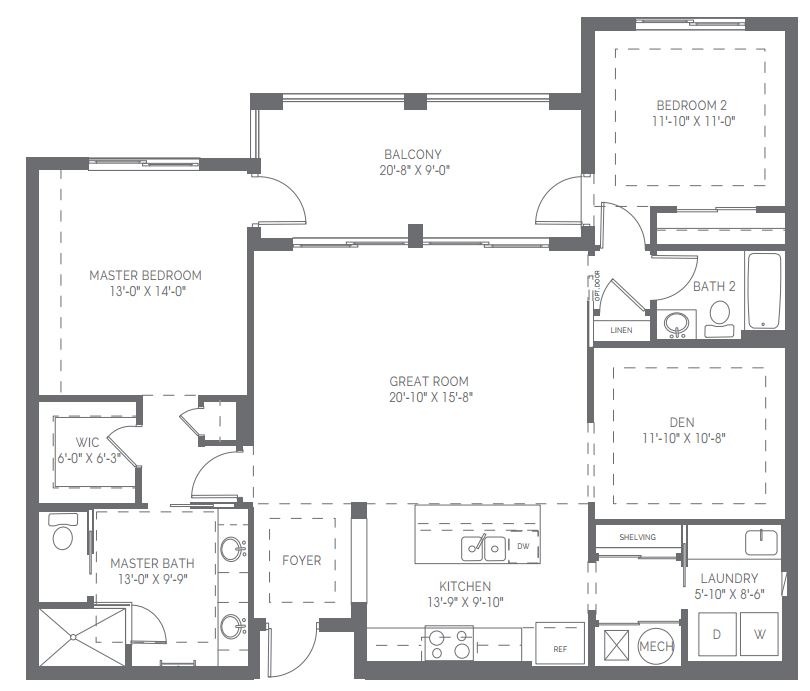 There are a number of reasons why choosing an condo or home in Naples Square could be a brilliant decision. When you are the proud owner in this locality, you will not only be rubbing shoulders with the rich and wealthy, but you will also be pampered with the best of luxury and scenic beauties. The condos are located along the awesome Gulf of Mexico skyline and hence it will certainly go a long way in making your heart skip a beat. You will certainly get a mix of both sophistication and charm when you choose an condo here.
The Best Of Everything At Your Doorstep
The location is without any doubt one of the prestigious ones and certainly a feather in the cap for the promoters. You will be living in a locality that is well connected by the best of road, rail and other transport facilities. Hence, moving around to the central part of the city should not be any problem at all. You will also be in an area where social activities are the norm of life. Hence, there will hardly be any day where you will miss out on some social activities. Hence, there is no doubt that you will have the best of everything in terms of value for money, quality of life both inside the condos and homes and outside of it too.
A Look At The Ballard Floor Plan
While there is hardly any doubt that you would be staying in the best of luxury as far as the outsides are concerned, it would be interesting to have a closer look at the insides of the condos known as Ballard. The whole floor plan is simply amazing and has quite a few things to offer. While it may not be possible to list out all the special features of the floor plan a few important points are being shared below.
The great room with a measurement of around 20 feet x 15 feet is something that is fantastic to say the least. The balcony is also equally big and is generously constructed with a size of around 20 feet x 9 feet. Just standing or sitting there you would be in a position to enjoy the magnificent scenic beauty outside. The balcony will certainly allow light and fresh to flow unhindered. It would also be pertinent to mention here that Ballard also will have quite a few other rooms making it one big show piece of comfort and style.
The Best Of Bathrooms And Kitchens
The master bath will be quite spacious and will be around 13 feet x 9 feet and hence quite roomy and big. It will have the most modern fixtures and fittings. The same can also be said about the kitchen which would be sized around 14 feet x 10 feet. Apart from this there will be two bedrooms. The master bedroom will be around 13 feet x 14 feet making it quite a big one. The second bedroom, though slightly smaller will also have a reasonably big size of around 11 feet x 11 feet. Additionally, there will also be a space for laundry, den and also a smaller bathroom.
All in all it certainly will be a great experience given the quality of construction, location and facilities that are available.
For more informaiton about Naples Square, please contact us:
Contact Us: