Ashbury
<--- Back to Paloma New Construction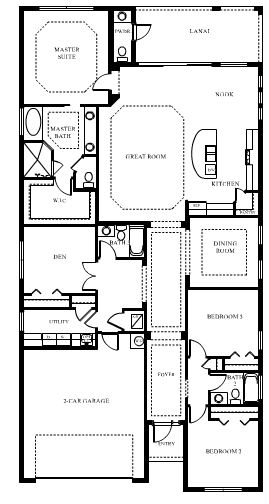 Paloma community in Bonita Springs, Florida has increasingly become a neighborhood of choice for people looking for a serene residential environment. It is here that you will find Ashbury home, which has 3 bedrooms, 3 bathrooms and a 2 car garage. It has a dimension of 2,431 square feet and the surrounding is superb and serene.
Walking up the driveway, you see the garage which has a dimension of 21.4x19.10 square feet. Next to it is the covered entry leading to the house, which is well sheltered to keep you from when entering or exiting the house. As you set your feet into the foyer, you will see a door leading to the second and third bedroom. Right direct ahead of the door you find the shared bathroom which has a bathroom, a soaking tub and a vanity. The second bathroom is on the left side of the bathroom and the third bedroom is to the right side. Both bedrooms have walk-in closets and have a dimension of 11.8x11.0 square feet.
As you walk past the foyer, you will enter into a veranda which has a door on the left leading to the den and a utility room. The den has a dimension of 11.10x11.0 square feet. Tacked in a corner between the den and the veranda is a powder room. Beyond the veranda, connecting with the foyer you will find the great room with a dimension of 19.0x15.4 square feet. On the left, adjacent to the great room you will find the kitchen space with a dimension of 14.2x11.7 square feet.
The nook is tacked in the right hand corner and is adjacent to the kitchen. It has a dimension of 11.7x10.4 square feet. As you stand in the great room, you will see a door at the left hand corner leading to the master bedroom. The master bedroom has a dimension of 15.6x14.0 square feet and is therefore spacious enough for your bedroom furniture and movements. The master suite is connected to the master bath which has a shower, soaking bath, a vanity and bathroom cabinets. At the far end of the room is a spacious walk-in closet.
Back to the nook, you will find a door leading to the covered lanai which has a dimension of 21.0x9.4 square feet. There is a toilet next to the lanai which can be used by people relaxing in the lanai. The cost of this home starts from $322,990. There are different amenities in the neighborhood which you will find exceptional for a luxurious life.
For more information, please contact us.
Contact Us