Pelican Bay Real Estate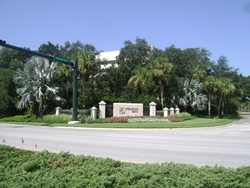 On more than 2,330 acres of pristine Southwest Florida land in North Naples is the famous community of Pelican Bay – a capstone of tropical lifestyle, just blocks from the clear waters of Florida's gulf coast.
When the site was first chosen in 1973, there was a risk that 570 acres of mangroves would have to be destroyed during construction. However, it was decided that compromises would have to be made elsewhere in order to save the mangroves, and a decade later the area was designated to be a natural resource protection area. This is Pelican Bay's legacy – a sprawling luxury community for residents who want to experience all the comfort, relaxation, luxury golf, and fun of their new home alongside Florida's breathtaking natural landscape.
Listings Pelican Bay
September 28, 2023
$1,134.21
Avg. $ / Sq.Ft.
$1,695,000
Med. List Price
Homes
Pelican Bay features many gorgeous neighborhoods of single-family homes, ranging from the low-$600s to more than $6 million. Many are located alongside one of the community's three 9-hole golf courses, and offer views of the many small lakes that pepper the area. The architecture is unique and differs from home to home – walk out of one mid-century Tuscan-style home, go across the street, and you'll walk into a sleek, modern home with low roof line and sharp details. Pelican Bay designed the homes to fit the needs and preferences of anyone, so no matter your personal home choice, there's something here for you.
Condominiums
There are a wide range of condo options available at Pelican Bay, starting as low as the upper-$200s and peaking at nearly $5 million. There are immaculate high-rises that overlook one of the community's several pristine golf courses as well as smaller, intimate buildings that quietly reside by the untouched natural preserves near the coast. They have everything from cozy, single bedroom units to expansive 6-bedroom units fit for a king, and all are located in one of the most sought after locations in the area – within walking distance from multiple private beaches, surrounded by breathtaking natural preserves and estuaries, and just yards away from three world-class golf courses.
The Club Pelican Bay
Designed by Arthur Hill/Steve Forrest & Associates, the three courses at The Club Pelican Bay are breathtaking examples of Florida's natural landscape integrated with man-made creativity – so much so, in fact, that they are featured on the cover of Arthur Hills' book "The Works of Art: Golf Course Designs by Arthur Hills."
And works of art they are. All three courses – Club, Pelican, and Bay – are stunning creations. Each 9-hole course features 5 unique sets of tees on every hole to incorporate every skill level. The Club course stretches from 2,529 to 3,420 yards, the Pelican is from 2,618 to 3,385 yards, and the Bay course begins at 2,515 yards and goes all the way to 3,433. The Club Pelican Bay also provides golfers and guests with the attention of PGA Golf Professional Jim Demallie, Assistant Pro Jared Blocker, and LPGA Assistant Pro Patty Driapsa. The Club truly offers a golfing experience unlike any other in Southwest Florida – and it's right in your backyard.
Beaches
There are two private beach access points that are reserved for residents of Pelican Bay with a Foundation ID card – issued freely when you move in. The beach is within walking distance from your home, but you won't always have to walk – five separate tram stations along the West edge of the community are there to take you to the beach in just minutes. Head over to the North Beach and enjoy fine dining on the water at the Sandpiper, or quench your thirst at the delicious North Beach Café. Walk down to the South Beach and indulge your hunger at either the beautiful Sunset Café or Sandbar. With their exclusive nature and borders of mangrove preserves, Pelican's Bay's private beaches are the most beautiful on the coast.
Community Center
Pelican Bay has been described as "one of the most active tennis communities in Southwest Florida," offering two huge tennis complexes with a total of 18 courts, as well as professional instruction, community tournaments and events, tennis leagues, or simply a friendly game in the late afternoon. That isn't all the community center has to offer, though – head inside and marvel at Pelican Bay's state-of-the-art fitness facility, a massive array of world-class cardio and weight equipment, personal training rooms, certified professionals trained to assist you with any need, and several different classes to help you learn more about your fitness and health. Also available by appointment are therapeutic massages and skin treatments for perfecting your inner and outer glow after a satisfying workout.
Residents with a draw to the water also have the ability to check out canoes and kayaks – perfect for spending a relaxing day on the ocean. If land is more your speed, look for any of the many outdoor activities offered that will keep your dry, such as bicycling, jogging, nature walks, and much more.
Waterside Shops and World-Class Resorts
Pelican Bay is also home to the elegant Waterside Shops, a gorgeous, high-end shopping and dining center that offers a wide array of both affordable and luxury fashion, fine dining, home décor, and beautiful views of Pelican Bay's picturesque lakes. From Brooks Brothers to Burberry, from Gucci to Gap, from Brio Tuscan Grille to California Pizza Kitchen – Waterside Shops is the "one-stop shop" for everything you need in Pelican Bay.
Adding to the community appeal is something that is unmatched anywhere else in Naples. Anchoring both West corners of the large community are two of the most prestigious vacation resorts in the world – the Waldorf Astoria Resort on the Southern corner, and the Ritz Carlton Resort to the North. The Ritz provides breathtaking views of the Gulf of Mexico, while the Waldorf is perched above the beautiful waters of Clam Bay. These luxury resorts are highly rated, and are the perfect place for visiting family or friends.