Pelican Marsh Real Estate
#star-ratings-small-pelican-marsh#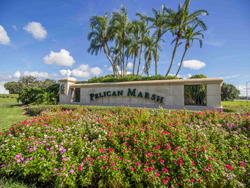 The sprawling community of Pelican Marsh is a Southwest Florida favorite – minutes from the beach, minutes from the most desirable Naples amenities, and with gorgeous, luxury golf to match. Living in Pelican Marsh is like living in a tropical oasis, year round.
2,075 acres make up this expansive gated community, 133 of which are designated natural preserves, protecting the beauty and splendor of the local landscape. Dotted throughout the property are the community's fabulous homes and condominiums, which come in all shapes, sizes, and designs, ensuring that you'll find the perfect match for your preferences and budget.
And the in-neighborhood perks simply can't be beat. From the state-of-the-art Pelican Marsh Community Center, to the high-end tennis facility, to the Pelican Marsh Golf Club, you'll never be without something to do that will relax, reenergize, or just provide you with a fun day in the Florida sun.
Listings Pelican Marsh
September 28, 2023
Homes
With 18 distinctive neighborhoods of beautiful built homes, Pelican Marsh has a monopoly on luxury homes in North Naples. From the large estate homes of over 4,000 square feet that reside in the oldest community of Sweet Bay, to the affordable  1,640-2,100 square foot homes of Timarron that offer unheralded views of the surrounding landscaping. But if you're looking for the finest high-end living in the city, look no further than the gated Estates at Bay Colony. A masterful creation of the most beautiful estate homes in Naples, this haven of luxury offers incredible designs, massive lots, brick-paved streets, an exclusive golf club of its own, and much more. Plus, the homes range in size from 6,000 to an astounding 10,000 square feet, and the lots are about ¾ of an acre, giving this community the atmosphere of affluence and comfort.
Condominiums
While Pelican Bay sets the example for incredible single-family homes in Naples, it certainly doesn't fall behind with its luxury condos – eight beautiful neighborhoods are devoted to condos and coach homes, creating a diversity that caters to every preference and need you could possibly have. In Clermont, you'll find 1,700 – 1,900 square foot condos that include a personal garage and incredible views of the golf course as well as the water. Or, take advantage of one of the beautiful carriage homes located in Osprey Point – these two-story buildings offer units on both the first and second floors, and second floor residences have the option of adding a personal elevator. Plus, you get to enjoy the convenience of an exclusive one- or two-car garage as well as stunning views of the natural Southwest Florida land.
Amenities
Just as you'll find all of Naples finest amenities just minutes away from your new home, so too will you find the same thing within the gates of Pelican Bay.
The amazing aerobics and yoga center is the perfect place to unwind and clear your mind after a long day, and you can complete the experience with a healing massage therapy and skin care treatment by on-site health professionals. Pelican Marsh also provides to residents a state-of-the-art fitness center for keeping in shape as well as a high-tech computer center for taking care of any personal or business needs at your convenience.
And as a golf community, few live up to the standard that has been set by Pelican Marsh. Awarded the 2012 Golf Course Renovation of the Year Award, the course is a stunning example of architectural achievement and meticulous landscaping that creates an experience like no other. The 18-hole, par 72 championship course, designed by Robert von Hagge, is a true beauty in the world of golf – gently contoured fairways, flawlessly smooth greens, incredible TifEagle grass, and beautifully deliberate groundskeeping all define this Southwest Florida gem. Plus, on-staff PGA Professionals are always around to give you a helpful tip after a round or to set up an in-depth, one-on-one lesson to take your game to the next level. All of this and more is right at your fingertips when you live in the splendor of Pelican Marsh in Naples.