Capri
<-- Back to Sorrento New Construction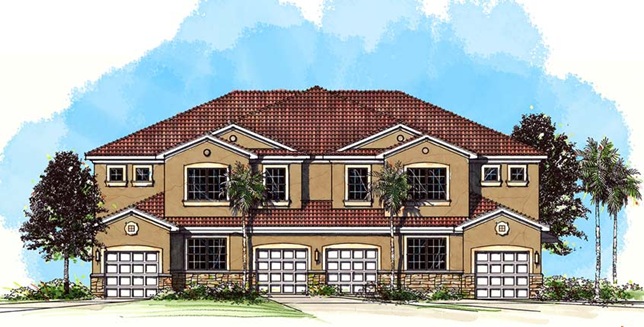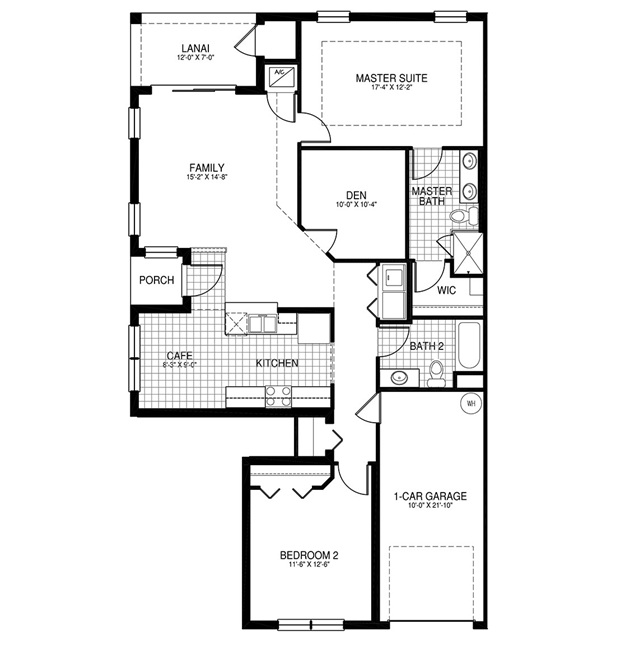 The Capri is a single story home in the calm Sorrento community of Naples, FL. This one-car garage property features two bedrooms, two bathrooms, a family space, a den and a lanai. This is a single family home covering a total living area of 1,402 sq feet.
The one car garage has dimensions of 21'10" x 10'0". There is also space for water heater in the corner of this car garage. It can also be accessed from inside the house through the door in the private hallway which also provides access to the bedroom number two and combined kitchen and family space.
On entrance to the house, there is a bedroom on the right side which has dimensions of 12'6" x 11'6". It has also a walk-in closet. It is connected to the rest of the house through a gallery at the main entrance. On the left side of the entrance is the combined open design kitchen and family space.
The gallery connecting the bedroom number 2 to the kitchen and family space also has a bathroom on its right side. This bathroom is spacious enough to have a toilet, a vanity and a bath tub. There is also a separate laundry area with enough space for separate washer and dryer at the end of the gallery.
The kitchen is on the left side of the gallery. There is a separate cafe area with dimensions of 8'3" x 9'0" next to the open design kitchen. The kitchen has a big island bar. There is also enough space for all the modern kitchen equipment such as a refrigerator, microwave oven and other modern appliances. Next to the cafe space is the porch.
The family room is next to the kitchen area and has dimensions of 15'2" x 14'8". This family room is designed to be the central activity area for the family. Across the kitchen is the den with dimensions of 10'0" x 10'4". This den can be used as a separate home office or a separate play area. This is also accessible from the family room and can also be used as a bedroom.
Entrance to the master suite is from the family room. The master suite is quite spacious with dimensions of 17'4" x 12'2". There is also a spacious master bath connected to the master suite. This master bath has separate shower area, toilet and bathroom vanity. Adjacent to the master bath is the walk-in closet.
The family room expands into the lanai which has dimensions of 12' x 7'.
For more information, please contact us.
Contact Us