Sorrento New Construction
Welcome to the Sorrento community. We've been expecting you. We know you'll feel right at home here. We've got the amenities you crave, the comfort you expect, and security you can always depend on. Whether you're a homebody looking to relax, or an adventurer seeking excitement, Sorento is the community for you. So please join us, and take a look at the beautiful features we have to offer you.
Before you even enter your new home, the exterior greets you with a paved driveway and walkway (per plan) leading to the covered entry and impact windows and doors. The picturesque presentation is complete with fully sodded homesites and professionally designed landscaping. Together they form an exterior that's both beautiful and easy to manage. And the automatic sprinkler and community irrigation systems keep your yard looking bright and lovely all year round.
Steel reinforced first floor concrete block construction and a precast concrete floor system ensure you'll never have to worry about structure integrity. The exterior hose connections and weather-proof outlet (G.F.I.) per code are perfect for all your outdoor needs. And the cement "S" type roof tile, meeting the exterior gutters, completes the appearance of home just waiting to be filled with memories. Take a moment to spy the outside of the screened lanai, anticipating airy nights in the summer breeze, before heading toward the insulated front door and binging the electric door chime.
The interior welcomes you with a gorgeous textured finish on the walls and ceilings that gives you the instant sense that you're somewhere soothing. Colonial trim, beautiful baseboards, and raised-panel interior doors, give a warmth and elegance to the home. The soft and comforting wall-to-wall carpeting, in your choice of designer colors, perfectly matches the comfort and sophistication of the lever door handles. All these features combine to create an air of warm and joy that will carry you all the way to the walk-in closets in the master suite.
Air conditioning flows through the home with a breeze to ducts in all baths and walk-in closets—which also house vinyl-coated, ventilated shelving. Cat-5 data lines bring high-speed connectivity to the kitchen and master bedroom. And RG-6 quad shield coaxial cable brings entertainment and communications to the family room, den, and bedrooms (per plan). These modern features fit perfectly with today's level of connectivity giving your home and endless supply of portals to the world.
Your new home is already pre-wired for ceiling fans, with switches in all bedrooms and the family room. It will keep you and you family safe with electric smoke detectors, each containing a back-up battery, and the minimum 125 amp electrical panel with circuit breakers. The parts of your home you may never want to think about can sometimes be the most important. So knowing they're included and effective can take quite a load off. Add in the washer and dryer connections, and it's clear this is home has it all.
The kitchen is often the friendliest room in the house. Your quality-crafted, custom-designed cabinets, with 42 inch uppers and concealed hinges in your choice of decorator finishes, along with the granite countertops in your choice of designer colors, will make you the envy of every guest. The smooth-top, self-cleaning oven and built-in microwave will make cooking a piece of cake. And you'll never have to stress over cleaning again when you see the dishwasher, deluxe 1/2 h.p. in-sink disposal, and exquisite ceramic tile flooring in your choice of designer colors.
Ceramic tile, and choice of designer colors, continues in the bathrooms. Full vanity mirrors and cultured marble countertops featuring 8 inch wide, spread brushed nickel faucet packages make you feel like royalty. Shower in the master bath enclosed in safety-tempered glass, and ceramic tile walls throughout the shower areas of all baths, help you wash your worries away. The elongated commodes are comfortable for everyone. And the whole space will leave you feeling clean, refreshed, and ready for anything.
You won't even need to stress about your bills when you come to Sorrento. With R-4.1 foil wall insulation, Low-E insulated windows and sliding glass doors, minimum 13 S.E.E.R high efficiency central A/C and heating with programmable thermostat, and a minimum 50 gallon energy-mizer, insulated water heater; you'll rest easy from the savings and the comfort. In this era of green initiatives and environmental responsibility, you'll be proud to live in an energy efficient home.
When you are finally ready to head back outside, the one-car garage with remotes and electric opener provides convenient access. The durable, insulated, metal garage door will keep you safe from the elements. And the exterior coach light is decorated offer a beautiful adornment for your driveway—which leads you to even more discoveries.
Beyond your yard, you'll find a thriving and vibrant community. The clubhouse brings you and your neighbors together, offering countless opportunities to socialize. If swimming is your pastime, the resort style pool will help keep you cool and active whenever the mood strikes. Stay in shape with the extensive and well-stocked fitness center. And enjoy a little bocce ball—courts are available at your leisure.
Nearby, world-class shopping awaits you. Anything and everything your heart desires is yours to peruse. When you get hungry, renowned restaurants offer tantalizing choices for even the most discriminating diner. And you'll never have to worry about whether or not family can visit. Close to I-75 and the SWFL International Airport, travel to and from your new home is a snap. Of course the white, sandy beaches beg you and your guests to never leave.
When you come to Sorrento, you gain not only a home, but peace of mind. Every home includes the Residential Warranty Corporation (RWC) ten year limited warranty program as well as the owner's title insurance policy when the DHI Title Insurance Company is used. Closing cost incentives when using preferred lenders for financing are also available.
So when you're ready for something more than just a new home, but a whole new experience, come see the Sorrento community. From the moment you first spot your door, to the first night you drift off to sleep, to your morning cup of coffee in your spectacular kitchen, you'll know in your heart, every day you spend at Sorrento, that you absolutely made the right choice.
Floor Plans
Capri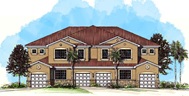 The Capri is a single story home in the calm Sorrento community of Naples, FL. This one-car garage property features two bedrooms, two bathrooms, a family space, a den and a lanai. This is a single family home covering a total living area of 1,402 sq feet. (Click Here)
Ravello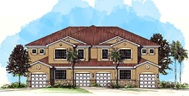 The Ravello is one of the two floor-plans available in the Naples community, Sorento. This little community has room for 80 courtyards along with all the commodities you would want near your home. There is a reserved parking space, a tennis court, a heated pool and stores where you can get your groceries. The best part is that all of them are available in walking distance and are available to all the community's members. (Click Here)
For more information on Sorrento, please contact us.
Contact Us