Azalea
Floor Plans: Azalea | Oleander | Orchid | Poinciana | Poinciana Retreat | Oleander Grande | Orchid Grande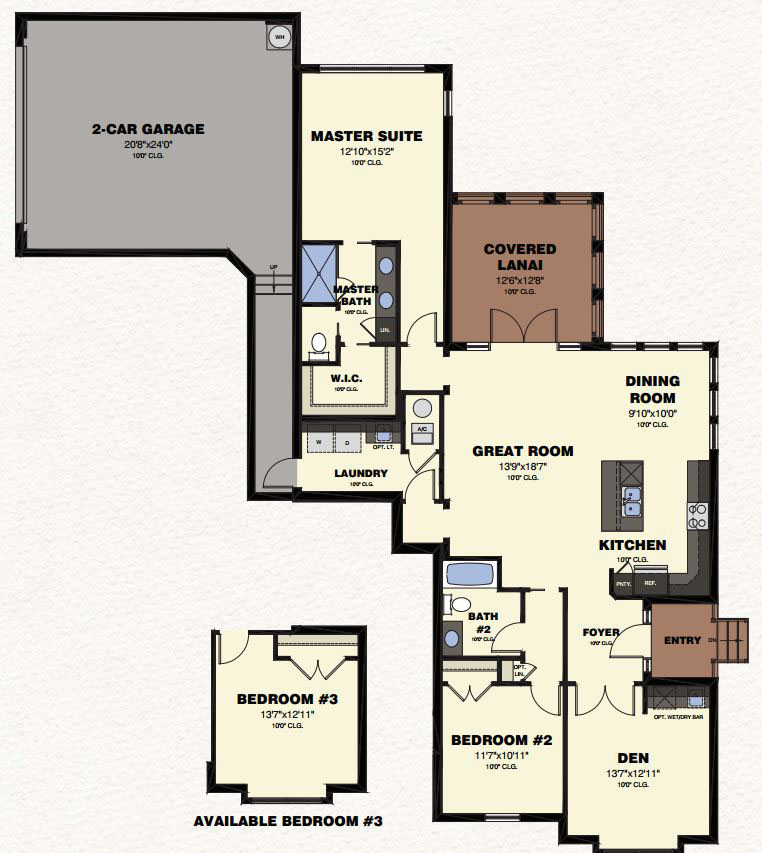 Azalea coach homes in Collier Preserve community in Naples, FL present an ideal home with a coastal setup that will definitely inspire every detail oriented homeowner. The 2 bedroom homes have a total space of 2,479 square feet with a cost starting from $403,900. However, the home has an additional bedroom which is detached from the rest of the house and has a dimension of 13.7x12.11 square feet. Approaching the home from the frontage brings you to the covered entrance which in return leads to a spacious foyer. On the left side to the foyer is a spacious and comfortable den that has a dimension of 13.7x12.11 square feet. As with every other room and space, the den has a CLG-100 ceiling which makes it look spacious and relaxed.
On the right side of the foyer is a kitchen space that is connected to the great room and the dining space. The great room has a dimension of 13.9x18.7 sq ft while the dining room has 9.10x10.0 sq ft. From the great room you head direct to a covered Lanai which provides a relaxed space for your relaxation. The lanai measures 12.6x12.8 sq ft, giving enough room for you to enjoy the best times with your friends and family.
As you enter through the door connecting the foyer to the great room, you will find a door located on the left side leading to the bath which is adjacent to the second bedroom. Between the bath and the bedroom is an optional laundry space. The second bedroom has a dimension of 11.7x10.11 sq ft. Back to the great room, you will find another door that leads to the main laundry chamber and the AC area.
The door to the master bedroom is located at the far end corner of the great room and as you enter in, you will find a room whose idea is inspired by timeless and elegant architectural design. The room has a dimension of 12.10x15.2 sq ft, which is a massive expression of luxury and generosity in space. It contains a master bathroom which has a toilet, bathing area as well as a wonderful walk-in closet for better organization of your personal belongings.
In addition, Azalea coach home comes with a 2 car garage that is located at the back with a dimension of 20.8x20.0 sq ft. You can access garage from inside the house using a door that directly connects with the laundry space. Azalea coach homes present residents with a rewarding lifestyle in the middle of serene and evergreen surrounding from where you can access various amenities and the gorgeous coastal settings.
For more information, please contact us.
Contact Us