Camellia Grande
Floor Plans: Pimento | Jacaranda | Jasmine | Jasmine Grande | Ginger | Camellia | Plumeria | Camellia Grande | Lantana | Lantana Grande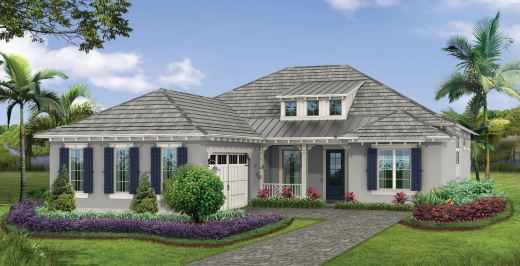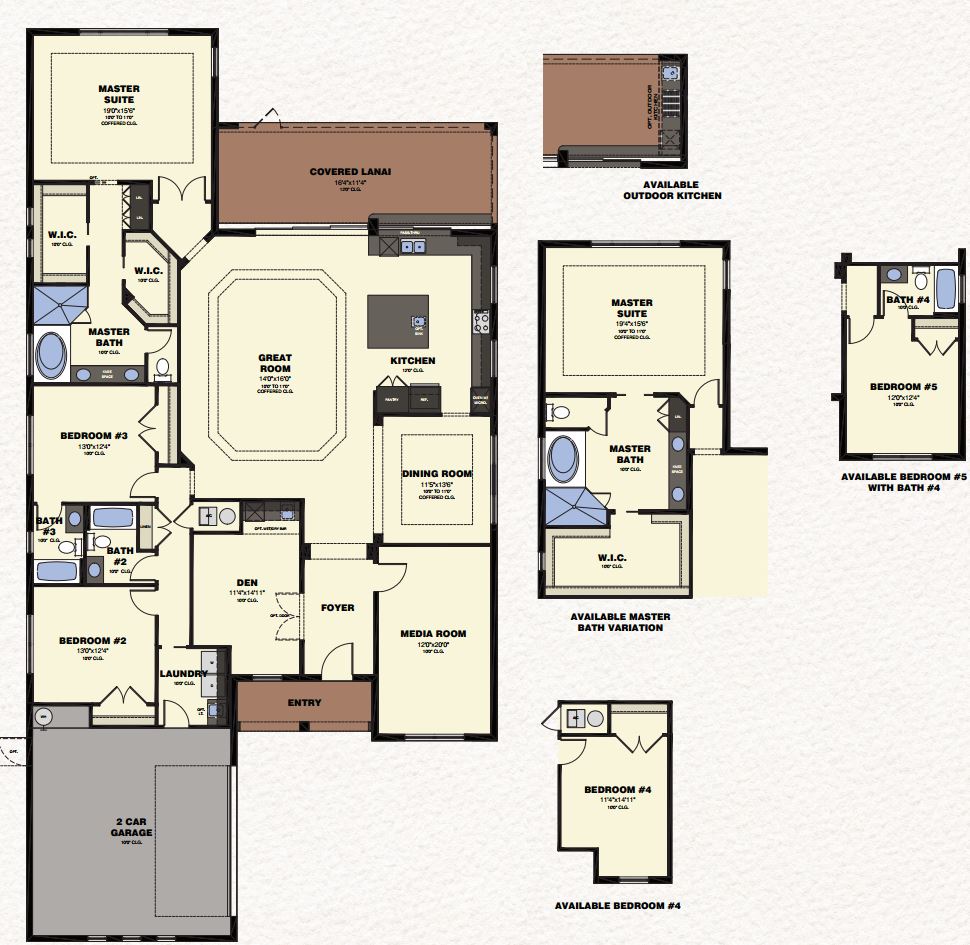 The single story Camellia Grande features three bedrooms, three bathrooms, a media room and a den. This 4,106 sq ft property comes with total living area of 3,156 sq feet. The private two car garage has an area of 522 sq feet and comes with an optional door opening to access the outside of the property.
On entry to the house, the foyer leads straight to the great room which provides access to all the other areas in the house. There is a den on the left of the foyer which can be converted into a bedroom, if desired. This den covers an area of 14'11" x 11'4" and comes with the option of doors. This den can also be turned into a bedroom with closet, if needed.
On the right side of the foyer is the media room which is 20 feet long and 12 feet wide. This 10 feet high media room can also be turned into a bedroom with an attached bathroom. Therefore, this house can be converted from a three-bedroom house to a five bedroom house.
The expansive great room has kitchen and dining room adjacent to it. The dimensions of 16' x 14' provide ample area for all the modern furniture and other activities. The 12 foot high open design kitchen on the right comes with a breakfast bar and an optional sink in the breakfast bar. There is enough space for all the common kitchen appliances. Adjacent to the kitchen is the dining room which covers an area of 13'6" x 11'5", enough for a big dining table.
The bedroom number two and three can also be accessed from the great room through a private hallway. Both of these bedrooms are 13 feet long and 12'4" wide and have enclosed closets. Both of these bedrooms have their own separate bathrooms. There is also a separate laundry room adjacent to the bedroom with separate washer and dryer and it also provides access to the private car garage.
The master suite is vast with dimensions of 19" x 15'6" and also comes with two walk-in closets and a spacious master bath. There is also an option for reconfiguring the master bath and walk-in closets, if so desired.
The great room also opens into the covered lanai which comes with a ceiling height of 12 feet and covers an area of 16'4" x 11'4". It also has a door to access the outside of the house.
The great room, dining room and master suite come with coffered ceiling 10 to 11 foot high.
For more information, please contact us.
Contact Us