Hibiscus
Floorplans: Oleander | Orchid  | Oleander Grande | Caribwood | Orchid Grande | Hibiscus | Hibiscus Retreat | Hibiscus Grande | Hibiscus Grande Retreat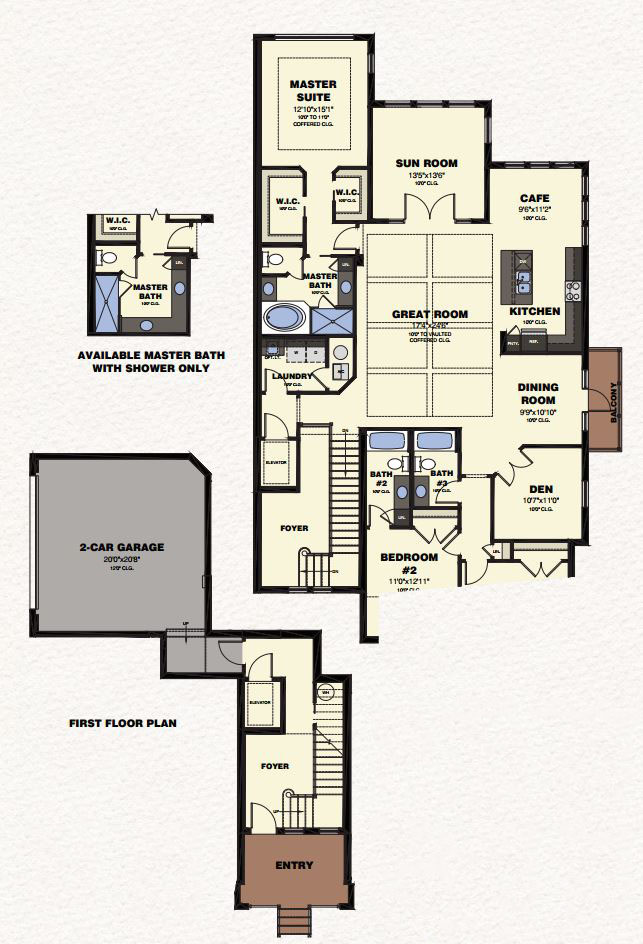 Nestled in pristine natural beauty and located just a few miles away from downtown Naples, FL, the Isles of Collier Preserve is the perfect place to purchase your dream home. You can choose among a number of home options given by the builders and one of the popular ones is the Hibiscus design.
The 1 storey Hibiscus homes will consist of 3 bedrooms, 3 baths, a Den, Sun room and a 2 -car garage. The total area covered by the house will be 3,175 square feet and it can be broadly split up into four components - Total Living Area (2,571 sq ft), 2 Car Garage (486 sq ft), Covered Entry (94 sq ft) and an Elevator (24 sq ft). The first floor will be smaller in size with a living area of 258 sq ft. The second floor will house the larger living spaces and cover an area of 2,313 sq ft.
As you will see in the design, the entire house is built in a manner which makes it most convenient for the residents. The entrance will lead to a foyer from where the second floor can easily be accessed by stairs or the elevator. On the other side is the garage where residents can easily park 2 cars. The stairs will lead to a spacious Great Room on the second floor. This will be largest room in the house at 17' x 25'. There will be a kitchen and dining room on its right side.
The dining room will lead to a quaint balcony where you can enjoy quiet evenings. The Master Suite bedroom will be located on the other side and will cover an area of about 200 sq ft. The sun room will be adjacent to this. The other two smaller bedrooms will be located on the other side of the Great Room and these will have their own attached bathrooms. The Main Bedroom will have a Master Bath complete with a shower, bath tub and other essentials. The Den is located between the Dining Room and third bedroom. It will provide a convenient space for post dinner entertainment and relaxation. A separate laundry space has also been provided.
All the rooms have been spaced out in a proportionate and wholesome way. Convenience of residents has been of paramount importance during the design phase. It will cost the buyer $ 533,900 but you can be sure that is worth every cent. Its location is also perfect as the community is close to the city, but at the same time is completely surrounded by Nature.
For more information, please contact us.