Jasmine Grande
Floor Plans: Pimento | Jacaranda | Jasmine | Jasmine Grande | Ginger | Camellia | Plumeria | Camellia Grande | Lantana | Lantana Grande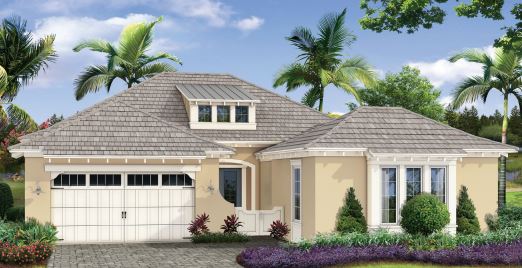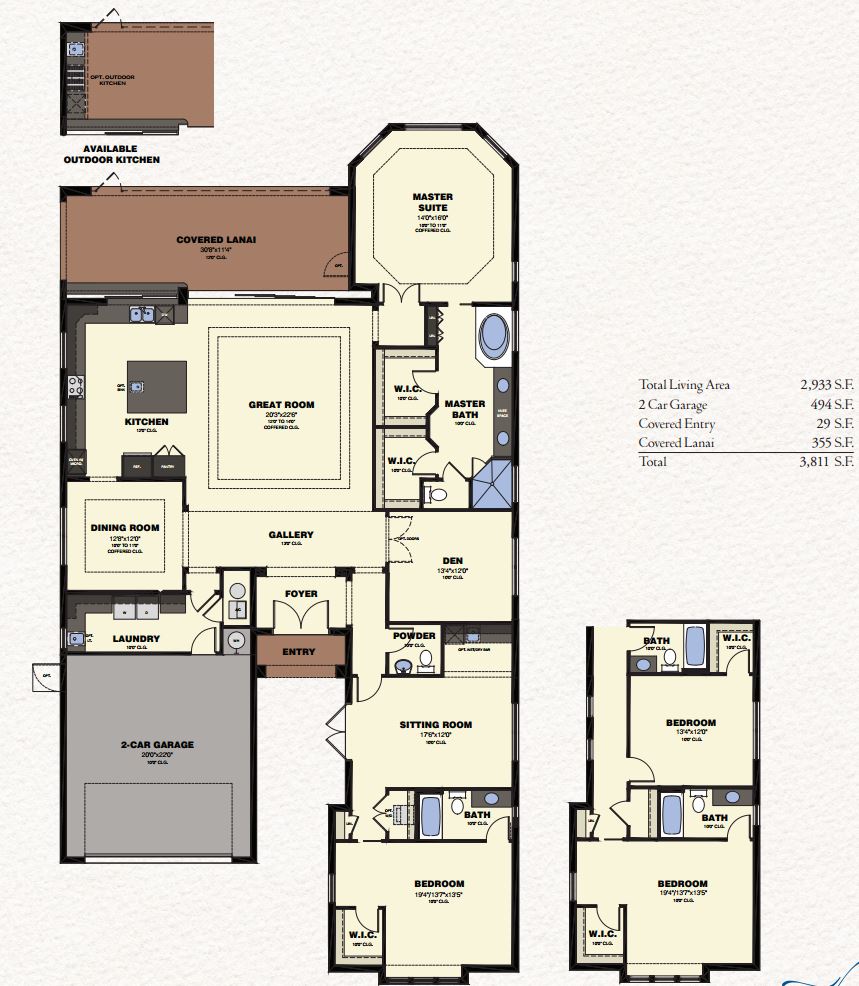 Jasmine Grande single family home covers a total area of 3,811 sq feet and is part of the Mangrove collection. The living area of 2,933 sq feet is spread across two bedrooms and two and a half baths along with a den, a sitting room, a great room, open kitchen and dining area.
The two car private garage on the left side of the property is spacious at 22 feet long and 20 feet wide. There is a separate corner for water heater in the garage. It comes with an option of a door to access the outside area. The laundry room in the house has a door to the garage from inside the house.
The covered entry opens in to the foyer which is further connected to the gallery. On the right side of the foyer, there is a private hallway running parallel to the car garage. This private hallway provides access to the sitting room and bedroom number two. The sitting room comes with dimensions of the 17'6" x 12'0". It has the option to be converted into a bedroom which will be 13'4" long and 12 feet wide. There is also a powder room outside the sitting room.
Next to the sitting room is the bedroom which covers an area of 19'4"/13'7" x 13'5". There is an enclosed walk in closet in this bedroom and it also has its own separate bath.
The gallery opens into the expansive great room. This great room covers an area of 22'6" x 20'3" and comes with 12 feet to 14 feet high coffered ceiling. On the left side of the great room is the open kitchen.
This open kitchen has all the modern amenities one can think of. It comes with 42" high cabinets which are frameless and there is enough space for big sized refrigerator, dishwasher, free-range, pantry and cooking island. There is a dining room adjacent to the kitchen which can also be accessed from the gallery. This dining room is 12'8" long and 12 feet wide and has 10 feet to 11 feet high coffered ceiling.
The great room leads into the cover lanai which covers an area of 30'8" x 11'4" and has 12 feet high ceiling. If one enjoys cooking in the open, this covered lanai also offers the option of an outdoor kitchen.
The master bedroom lies on the right side of the great room and covers an area of 16' x 14'. There is an option of a door from covered lanai to master bedroom for easy access. This master suite has two connected walk-in closets and a spacious master bath.
The master bath has separate shower area, toilet, a drop-in tub and knee space. Both of these walk-in closets are directly accessible from the master bath.
For more information, please contact us.