Lantana
Floor Plans: Pimento | Jacaranda | Jasmine | Jasmine Grande | Ginger | Camellia | Plumeria | Camellia Grande | Lantana | Lantana Grande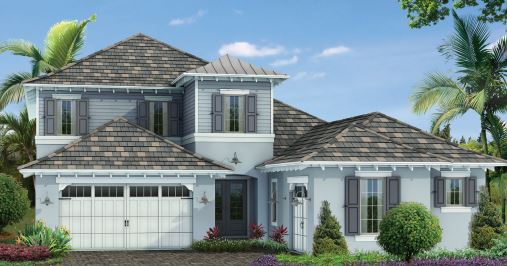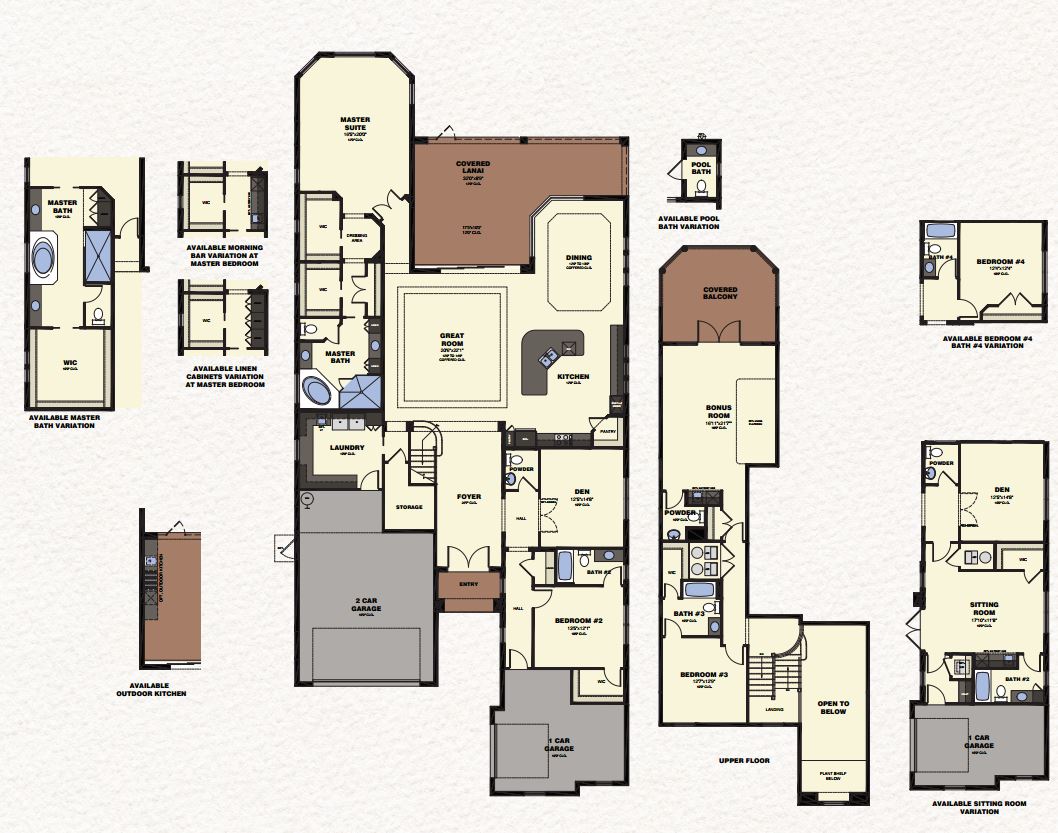 The beautiful Lantana house in the Isles of Coller Preserve is a two story house and covers an area of 5,658 sq. feet. This property has three bedrooms, three bathrooms, two half bathrooms, a den and a bonus room. There is an option of a sitting room which increases the total living area to 4,075 sq feet from 4,002 sq feet.
Upper floor of the house has a bonus room which covers an area of 21'7" x 16'11" with a ceiling height of 10 feet. There is also an option of a media platform in the bonus room. There is a 12'7" x 12'9" bedroom with an attached bathroom and walk-in closet. There is also a half bathroom attached to the bonus room which opens into the covered balcony.
First floor of the house covers two bedrooms and a den which can be converted into a bedroom. There are also separate private car garages that are spacious enough for a total of three cars. Both of these garages have 10 feet high ceilings and cover a total area of 893 sq feet or 820 sq feet with the sitting room option.
Stairs to the upper floor are adjacent to the foyer, which has a high ceiling of 29'7". On the right side of the foyer is the private hallway which provides access to the den and a bedroom. This 12'5" by 14'8" den has an adjacent powder room and can be converted into a bedroom. The bedroom here comes with an attached bath and a walk-in closet. The bedroom along with the hallway can be turned into a sitting room.
The great room with an area of 22'1" x 20'6" opens to the covered lanai and also provides access to the master suite. The adjacent open kitchen and dining area give a feeling of openness to this space. The 12 feet high kitchen has an L-shaped island with inbuilt sink and there is enough space for all the kitchen appliances. The 12' x 13' dining area comes with coffered ceiling.
The master suite at the far end of the property has a dressing area, two walk-in closets and a spacious master bath attached to it. The master suite space has various configuration options available. One can choose from morning bar variation and linen cabinet variation along with the walk in closets. The space for master bath and walk in closet can also be exchanged.
The covered lanai covers two combined spaces with a 12 feet high ceiling which have dimensions of 17'3" x 10'3" and 32'0" x 8'9". An optional pool bath variation is also available.
For more information, please contact us.
Contact Us