Vanderbilt Beach Real Estate
#star-ratings-small-vanderbilt-beach#
Listings Vanderbilt Beach
December 2, 2023
$1,113.24
Avg. $ / Sq.Ft.
$1,350,000
Med. List Price
If your goal is to get close to the water, you won't have to look any further.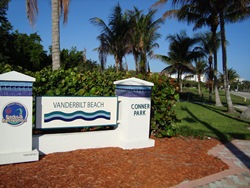 The community of Vanderbilt Beach is a Gulf-front and bay-front community that offers some of the most beautiful, unobstructed water views in Naples. A mix of stunning condominium high-rises and elegant single-family homes, Vanderbilt Beach redefines the term "waterfront." Its West-of-U.S. 41 location is also one of the most prestigious in the Southwest Florida area, and the local amenities are unmatched anywhere else. Vanderbilt beach is the Gulf coast community all other strive to emulate.
Homes
The unique and attractive single-family homes available in Vanderbilt Beach are going to be found in the neighborhood of Connors. Homes there range in price from the low-$500s to over $2.5 million, creating a beautiful mix of cozy, intimate homes and lush estates. Nearly every home is on the Bay, and just as many come with a private boat dock. Direct Gulf access is also available, making these homes perfect for the boating lover in you. Your home will also be just minutes away from both the Vanderbilt Beach Resort and the Delnor Wiggins State Park and Beach.
Condominiums
The Regatta, Moraya Bay, Vanderbilt, and Le Dauphin are Vanderbilt Beach's luxury condominiums. Standing tall over the clear Gulf waters, these immaculate buildings are a mixture of elegance, luxury, and affordability. While some high-rise units are priced at over $2 million, there are several intimate low-rise units available for under $100,000. No matter what which you choose, however, you will be getting breathtaking Gulf and Bay views, unbeatable amenities such as a residential marina, and a location that is unlike any other.
Vanderbilt Beach Resort
This world-class resort is a Southwest Florida gem. Located right on the beach, it is the ideal place for family and friends to stay when they visit your new Vanderbilt Beach home or condo. The resort offers a variety of room styles, from cozy studio units to expansive deluxe apartments, all of which are stocked with everything necessary to make them feel like home – coffee makers, microwaves, stovetops, and more. The rooms are angled to face toward the beach to provide guests with the best views possible, and every room is just a short walk's distance from the sand and waves. And to make things even more comfortable, the resort provides beachgoers with free towels, beach chairs, umbrellas, drink tables, and beverage service on the beach.
Delnor-Wiggins State Park
Consistently rated one of the best beach destination in the nation, the Delnor-Wiggins state park is a pristine 166-acre park and mile-long beach, perfect for nature lovers and beachgoers alike. At Wiggins Pass, swimming is not allowed, but it is a hotspot for fishing, and there are plenty of other places that offer snorkeling into the blue Gulf waters. Boaters are free to launch into Water Turkey Bay and either cruise up the Cocohatchee river or turn into the Gulf for both freshwater and saltwater fishing, and at the far North end, a tower provides a stunning high-rise view of the entire park and miles of white sand beaches. The park also offers kayak tours, and paddleboard, canoe, and kayak rentals. It's a vacation in itself, and living in Vanderbilt Beach will put that experience right at your fingertips – at any time you want.