Listings Verona Walk
September 23, 2023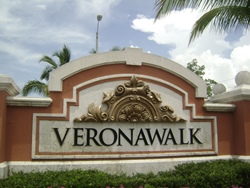 In the heart of East Naples is a lakefront community that combines all the luxury of a Southwest Florida lifestyle with the comfort and convenience of the most desirable amenities in the state.
Located just up the road from I-75, Verona Walk is a staple of the beautiful Naples scenery as well as Gulf coast living. The community provides unmatched amenities such as a central town center that features a hair salon, library, gas station, ballroom, resort-style pool, playground for the kids, ATM, cozy café, and top-of-the-line tennis courts. The homes of Verona Walk are stunning – the terracotta roofs and Mediterranean designs give the community the feel of an Italian getaway, all without having to leave your neighborhood. Immaculately maintained and pristinely landscaped, living in Verona Walk is like living in a vacation paradise – year-round.
Homes
Verona Walk offers a variety of single-family homes and attached villas as well as multiple floor plans for you to choose from. There are 10 separate models of single-family homes available, as well as 8 new floor plans introduced in 2010. The size of these homes ranges from 1,392 to 2,611 square feet under air conditioning, and they were constructed between 2004 and 2009, so you can be confidant you're getting a sturdy, well-built modern home – along with that "new home smell"!
If you prefer the attached villas, Verona Walk offers two unique duplex models – the Carrington, which is 1,542 square feet, and the two-story Dublon, at 1,858 square feet.
Verona Walk also has low association fees for its residents, which include regular lawn maintenance and irrigation. Also, residents have a wide array of customization options that allow for your home to be made as personal and unique to yourself as possible. Not to mention, private lakefront peninsulas throughout the community provide water views to every property – and despite all of this, homes and attached villas are priced from just the low-$200s to the $500s.
Amenities
Living in Verona Walk is like living in your own small town. The central hub of the community is the beautiful Town Center, which offers everything you could need without you having to leave. Get your hair styled at the hair salon, and then head over to the library to check out your favorite book, or maybe a movie for the family. On a hot day, take a dip in the center's resort-style pool and then enjoy a delicious meal and a cold beverage at the nearby café. There's even a playground to keep your kids entertained while you have a casual game of tennis with some friends at one of the Town Center's eight lighted tennis courts.
An indoor, state-of-the-art fitness center is the perfect place to stay in shape, from walking on the treadmills, to practicing yoga and stretching, to lifting free weights. Enjoy the game rooms for some quality time with friends, or maybe spend some time in the sewing room customizing your style. If you have a big event coming up, Verona Walk can make sure it's a memorable event by offering the majestic ballroom for all your entertainment needs.
Verona Walk is even an amenity on its own: The beautifully built, lighted walkways throughout the community making it the perfect place for a long walk at sunset. The beautifully designed Town Center rises from the street like a monument. The lakes that wind around the community glisten in the South Florida sun. Venetian-style bridges connecting every peninsula and walkway systems snake through the tree-lined streets. All this and more gives Verona Walk the atmosphere of a tropical paradise – and that's because it is.